Cognos Analytics boasts a rich platform for managing an enterprise BI deployment. To gain enterprise status a platform has much more to worry about than visuals. Instead it must focus on ensuring a reliable user experience through scalability, availability and security. Cognos achieves this status through features such as Routing Sets, External Authentication, Security Inheritance, Group Memberships, Scheduling, Credential Management, Historical Data and Content Retention Policies. Though not the flashy dashboards and drillable charts, these features are what makes Cognos Analytics a solid enterprise infrastructure.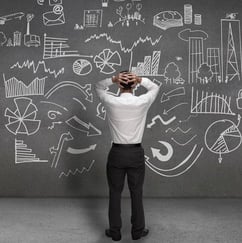 With so many levers to pull and so many users and reports to manage it's understandable that it can be difficult at times to know everything is in order as you may hope. As a Cognos Administrator it is critical to know how users are using the environment and to adapt quickly to the changes required by the business. Ask yourself, do you feel confident that no one has shortcut security and granted a user direct access to a report? Do you know how users are scheduling their reports and if these schedules are competing for server resources? How many users have copied entire packages into their My Folders and are saving loads of output? After that support call with IBM where you turned Audit Logging to full on your dispatchers, did you remember to turn it back down?
At QueBIT we care about helping our customers go from good to great and one of the ways we're helping Cognos Administrators, Modelers and Authors is through our partnership with Tech Data BSP Software. QueBIT and Tech Data BSP share the same passion when it comes to doing the job efficiently and accurately. For this reason, QueBIT now offers MetaManager Administrative Tools to gain real-time visibility on the configuration, usage and overall health of your Cognos Analytics environment. With this low-cost Swiss Army Knife an Author can quickly identify what reports are used by a database column and propagate fixes across the entire content store automatically. Using MetaManager an Administrator can review all security inheritance and policy assignments in minutes. Spotting security issues, poor retentions, inconsistent configurations and scheduling issues are no longer a fishing exercise, instead it's a quick and repeatable review of an Excel report. Also, with MetaManager's Monitoring System best practice policies can be enforced by checking and updating the content store through scripted rules.
It's a waste of time scour an environment by hand to try and answer these questions, especially when an affordable tool like MetaManager exists.
QueBIT can help you get control of your Cognos Analytics investment and set you up with a monitoring system to ensure users stick to best practices and support a reliable enterprise reporting environment.
Want to know more? Register Now for our upcoming webinar on February 8th to see all of this in action.