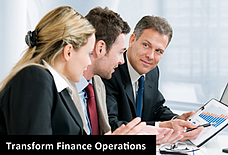 The modern CFO wields significant power and influence around a wide variety of business functions. Whether those functions are regulatory, strategic planning, governance, or beyond, CFOs are under pressure to provide accurate, and timely reporting with the most relevant data from all business departments. Given the ever-increasing risk and liability of manual processes, CFOs must ask themselves, "How can I automate and optimize finance processes while meeting all of my fiduciary responsibilities?"
Throughout all of the back-and-forth that report distribution presents, organizations are wasting precious time, and reports are being delayed. The longer these reports are on the shelf, the less they remain relevant and timely for the decision-making process. What if the finance department has an assembly area where stakeholders could automate and keep track of multiple contributions in multiple formats, including narrative content and commentary?
The introduction of external report management solutions have helped today's CFOs stem the tide to some degree. Automation has sped up the delivery time on the external end. But the internal end has remained muddied with error-prone, manual process issues. And those pesky security concerns remain deeply-rooted throughout all departmental reporting. New tools allow finance organizations to reduce cost, improve efficiency, enhance security, and reduce risk while ensuring more transparency and collaboration.
In rolling out the Cognos Disclosure Management platform, IBM has significantly closed the gaps in internal and external reporting. This solution is geared to break down silos, allow companies to meet ever-evolving regulatory and statutory mandates, and unify business processes across the enterprise. Now the reports that are seen represent a "single version of the truth" for business leaders and managers. From a collaboration, integration, and security standpoint, this automated solution can tie up all of the loose ends.
What else can Cognos Disclosure Management do for your business?
Join QueBIT's next webinar on May 15, 2014, (11:30 am to 12:30 am EST) as we discuss how IBM Cognos Disclosure Management can truly transform the way your business delivers its mission-critical information. The webinar will be led by IBM Solutions Specialist, Scott Erhardt.
*After registering you will receive a confirmation email containing information about joining the webinar.