Did you ever lose your train of thought because you couldn't stop thinking about an inevitable software implementation project? Don't sweat it. The thought of a large-scale implementation puts even the most seasoned IT people on the edge of their seats. The immediate questions and comments that get tossed back and forth between both sides (client and vendor) sound something like this:
"How can we execute this project without disrupting our business productivity?"
"Is the software going to meet our clients' exact demands?"
"What if there are bugs, defects, or other errors that spring up?"
"Do we have enough time to fix these problems and how much is it going to cost us?"
The last question is easily the most concerning. According to a Cambridge University study, the global cost of debugging software has ballooned to $312 billion annually.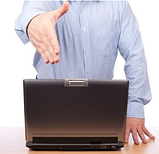 Oftentimes, the prospect of having misunderstandings between the development teams and the clients can cause a lot of pre-implementation consternation—and that is the point in which a lot of defects are born. Clients have certain unbendable expectations, including having software that integrates with their current business processes. If their user needs aren't met, the new system will do more harm than good.
Through years of experience delivering successful implementations, QueBIT realized that they needed to bring their clients closer to the system to decrease the rate of failure. They encouraged users to "own" the solution and the technology, and created a more collaborative implementation process. After all, capturing user knowledge of their unique business processes is integral to achieve a success.
QueBIT formulated the Collaborative and Rapid Enablement Implementation (CARE) Methodology as their solution for improving project and client management. Through CARE, QueBIT has been able to achieve a high rate of successful project implementation completion, customer satisfaction, and repeatable business.
CARE offers several benefits:
Better design decisions take place early in the process
Client engagement helps to align solution features with principle business goals
Stakeholders will have an easier time identifying specific deliverables, data requirements, and tasks associated with the project
To learn how much your organization could potentially save on project costs through CARE, contact the QueBIT team today!