The release of Planning Analytics Local (PA Local) is finally here! PA Local brings IBM's cloud investment to on-premise IBM Cognos TM1 and IBM Cognos Express customers.
If you have not watched QueBIT's PA Local Webinar, you can find the recording here. Official IBM Announcement about PA Local
What is Planning Analytics Local?
PA Local is the newest release and rebranding of IBM Cognos TM1. PA Local brings substantial changes and updates to the TM1 product line, which this blog post summarizes. PA Local has its own version number and brings a new continuous-development release cycle to the product offering: the brand-new Workspace component will have updates available about every 4-6 weeks.
The server components will continue to follow a traditional release cycle consisting of Fix Packs and new versions.
| | |
| --- | --- |
| PA Local Product Version | 2.0 |
| TM1 Server Version | 11.0.00000.918 |
Note: if you are a current IBM PA on the Cloud customer, nothing is changing. PA Local simply brings what is available in the PA on the Cloud to non-cloud customers!
Major Components of PA Local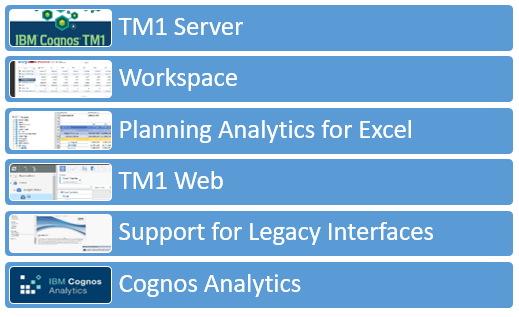 Some of these, like TM1 Server and TM1 Web, are familiar, but others are either brand new or significantly updated versions of other products. Planning Analytics local also includes a version of Cognos Analytics (previously Cognos Business Intelligence) that is limited to reporting on PA Local data. The rest of this post covers some of these new components and other important enhancements in the new PA Local offering.
A Unified PA Local User Experience
One of the most important changes IBM has made as part of the PA Local rebranding is to unify the overall look-and-feel of its non-legacy interfaces; this provides a much more consistent, simplified, and visually appealing experience for users. Here are some examples of the unified interface and experience across PA Local:
Planning Analytics Workspace (PAW)
Workspace is the new foundation for PA Local. Workspace is a web-based tool that was originally developed on the cloud and provides a rich, user interface ideal for exploring and visualizing your TM1 data. Workspace includes support for all of the new features included in PA Local, including new hierarchies support.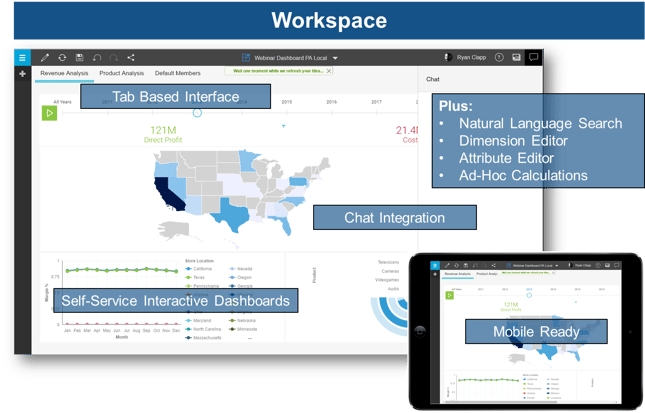 Licensing Note: Workspace is the only new component that comes at an additional licensing cost; please contact us for a quote: info@quebit.com
Planning Analytics For Excel (PAx)
PAx is the new excel interface for Planning Analytics, and takes the place of CAFÉ. PAx has a totally new look and supports many features Perspectives users have come to love. PAx even incorporates a new cube browser and set editor: the exact same one used in Workspace. While PAx is the future of TM1 data access from Microsoft Excel, it does not yet include all of Perspective's reporting features and, thus, TM1 Perspectives is still available in PA Local. Each release of PAx will incorporate more Perspectives features.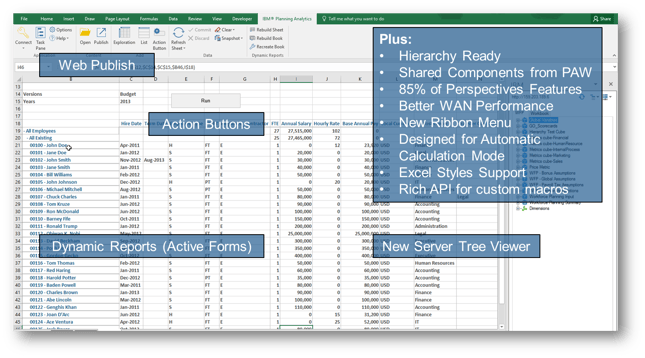 TM1 Web
TM1 Web has also been updated and also matches the look and feel of the other PA Local applications. TM1 Websheets can access relational data directly when published from PAx, which will expand existing drill through and comparison capabilities. In addition, TM1 Web now supports the new hierarchy features when publishing Quick Reports from PAx (formerly known as Flex Views in CAFÉ.)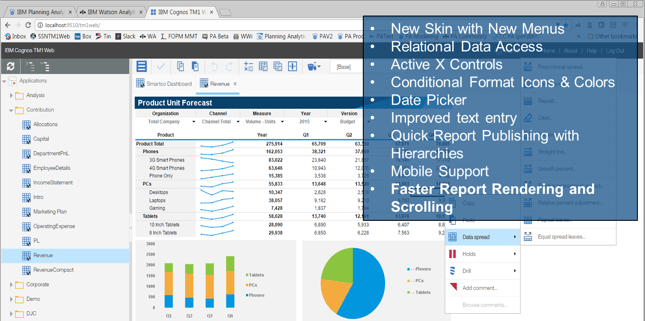 A New Paradigm for Modeling and Analysis: Hierarchies
PA Local brings the long-awaited hierarchies feature to the TM1 product line. Hierarchies will change the way you model your business in TM1 because it is a fundamental shift in standard TM1 architecture.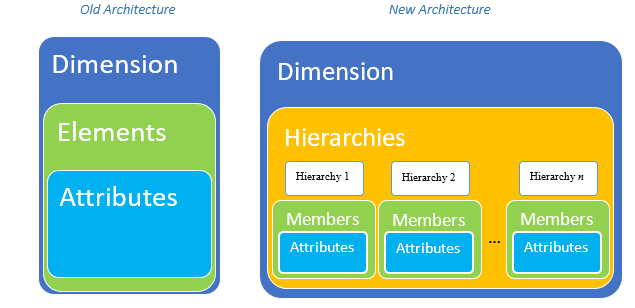 In the new architecture, a dimension is a collection of hierarchies, not elements. This will allow users to turn attributes or other information into virtual dimensions to better filter and consolidate data. Hierarchies will also make it easier to clearly separate and use alternate hierarchies in a dimension. Indeed, hierarchies also enables adding a dimension to a cube view multiple times, for example allowing you to browse products by color, category, and size all at the same time.
Most importantly, hierarchies will result in simpler cubes with fewer dimensions, lower RAM footprint, and increased query performance.
Although the PA Local TM1 Server supports hierarchies, the following table shows which of the TM1 interfaces and APIs will provide full support for hierarchies:

Those applications that do not fully support hierarchies will, instead, rely on the default hierarchy for each dimension.
Improved Server Performance and Features
Last, but not least, PA Local also improves the performance of the underlying TM1 Server. New features include:
TI Debugger: Track variables, set breakpoints, view locks!
Multithreaded Feeder Propagation: The MTQ framework has been applied to feeder generation, greatly speeding up TM1 Rule saves and server startup
Reduced locking contention: Allows for more frequent metadata updates and reduced locking typically caused by logins and other updates
What's Next for PA Local?
PA Local is a MAJOR release, and if you are interested in upgrading we highly recommend taking the time to prepare for, research, and understand how it may provide benefits to your existing TM1 on-premise implementation.
QueBIT is here to help!:
If you are interested in PA Local or the PA Local Launch License Incentive, email QueBIT at info@quebit.com
If you are currently using TM1 on a PM Advance license, please contact QueBIT for more information on how your license entitlements can be converted to PA Local.
In connection with the PA Local release, QueBIT is releasing a full suite of training offerings. Please look out for announcements in the New Year!


Schedule your PA Local enablement workshop or demo right away!


Stay tuned for our PA Local blog series where we will be reviewing many of the new features and how they can help your business.