What is Adaptive Live?
In short, it's a COMMUNITY! By the very definition, the annual gathering of experts and novices, partners and customers, and of course the outstanding Workday and Adaptive Insights professionals, is an amazing event where one can collaborate with the larger Adaptive family to share ideas, goals and interests, and leave feeling more informed and inspired than when one arrived.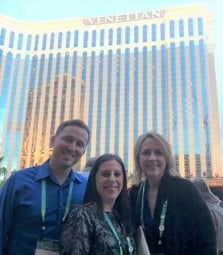 This year we had the privilege of attending Adaptive Live 2019 and it did not disappoint. An amazing group of people, approximately 1600 from all over the world and all different industries, came together to reflect on the past year, prepare for the future and learn from one another.
From the general sessions to the breakout activities, the schedule was packed full of meaningful and insightful opportunities to contribute and absorb. One key takeaway message, received loud and clear, was that "the same old thinking" will get you "the same old results". In order to have a competitive edge in today's fast-paced world, it is imperative that we use all of the tools available

to us to transform our stale business processes into a more strategic and agile approach.


You might be thinking … "I wouldn't even know where to start!". If that resonates with you then you are not alone, but luckily, Adaptive has you covered. Adaptive Planning is a dynamic solution that can help you keep up with changing business needs and "actively plan" for the future so that you can stay ahead of the competition.
What did we learn?
In the General Sessions and several of the Breakouts, we caught a glimpse of the roadmap for future product releases. At the top of the list is Anomaly Detection. Have you ever wished there was a way to set some parameters so that data values outside of a specified range would be flagged for review? Most of you will probably answer with a resounding "YES!" Here's how it might work: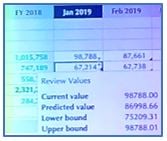 If an anomaly is detected it will be flagged in some manner, and additional details will be available for analysis, such Current Value, the Lower and Upper Bound parameters, and the system Predicted Value for guidance.
Also, coming to a theater near you is Adaptive Integration's "power of one". This new custom cloud loader will allow you to push data from Adaptive Planning back to a source system. Included will be some API improvements, as well as an auto-map feature enabling you to not only ADD new elements, but also MAP them at the same time! You can expect to see new Knowledge Base articles as well as online Training courses soon.
As we walked the halls of the event center, partners and customers alike were singing the tune "we're off to see the Wizard…" as they flocked to the Wizard Bar to drink in some 1:1 advice on how best to optimize their current model and learn some tips and tricks. There were so many great topics covered, but here are just a few …
Having issues with slow reports? Check to see if you are using Metric Accounts for simple math (A+B, A-B, A*B). Metric accounts are inefficient and should only be used for ratios (A/B). Or might you be using IF and DIV functions instead of IIF and DIVF?
Can't figure out which account to use where? Consider prefixing your accounts with the Sheet Name they are used on, so you don't get confused.
Not sure how to define a good test plan? Start by verifying results across several Versions, Levels and Time Periods. Or replace the first few months of the Plan year with Actuals data and check to see that your calculations are still producing the desired results.
Lastly, the Partner Booths were spectacular, and we saw a steady stream of inquisitive Customers, Partners and Workday and Adaptive staff. As the only partner offering an all new Report Distribution solution, QueBIT caught the eye of Tom Bogan, Adaptive insight's CEO.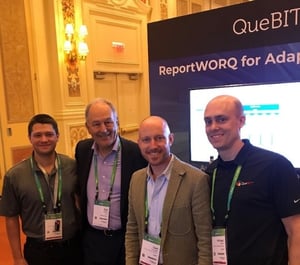 Introducing, ReportWORQ!! Our solution makes the job of generating and distributing dynamic reports from Adaptive OfficeConnect EASY! It enables your business users to get the information they need consistently without the burden of manually generating personalized reports. Some key features:
Automate existing OfficeConnect reports
Generate personalized data per recipient
Distribute reports via Email or AI Shared Folders
Run on demand or automatically with a schedule
Combine multiple reports into a single output
Export reports to Microsoft Excel or PDF
Please visit us at https://quebit.com/reportworq-ai/ for more info or to inquire about a free trial!
Ask QueBIT
Many more topics were covered at Adaptive Live 2019, much more that I can share in a single article. But if you're eager to learn more or to formulate a "plan" for the future, please email us at info@quebit.com or tweet @askQueBIT.
"Everybody Plans", come Blossom with QueBIT: Realize, Optimize, Strategize, Energize