IBM released the latest version of Cognos Analytics (Cognos 11.0.6) on March 17, 2017. Read on for more information about this release.
Enhancements in Cognos Analytics 11.0.6
The newest Cognos version continues to add enhancements to its key functional areas. In this release, IBM focused on making it faster and easier to create dashboards and provided more enhancements to the storytelling capabilities.
There are significant enhancements to the mapping capabilities by increasing the resolution of the postal code/area code level and expanding support for up to five levels of administrative boundaries.
Dashboard Changes
I am happy to say we now have the capability to report off OLAP Packages in Dashboard! This includes support for sources such as PowerCubes, Dimensionally Modelled Relational (DMR), TM1, Dynamic Cubes, MSAS and all the other supported OLAP sources. For the DMR package, the same rule applies as for relational packages, meaning that it needs to be published as DQM, unless there is also a JDBC connection defined for it.
When you select a OLAP package, dimensions, hierarchies, levels and measures display in the left-hand metadata tree. Members are not accessible now, this will be coming soon in another release.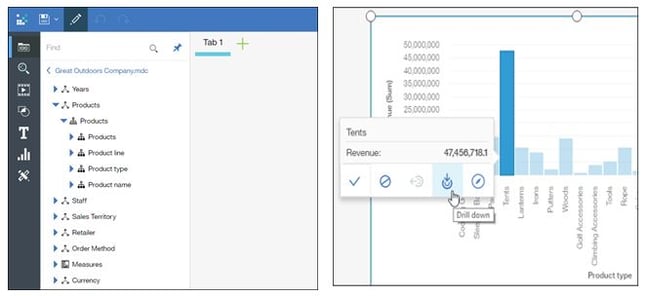 Mapping - Integration of Pitney Bowes Polygons
Pitney Bowes polygons have been integrated which enables you to visualize geospatial data across multiple admin boundaries and postal codes. You can now visualize data across multiple geospatial hierarchies from Countries, states, cities down to municipalities, precincts and cantons, etc.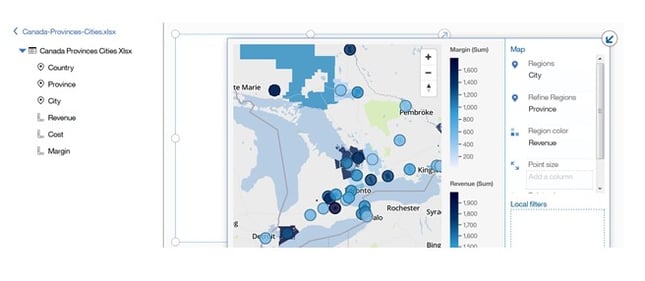 Support for Planning Analytics 2.0
Cognos Analytics 11.0.6 adds support for Planning Analytics 2.0, for on cloud or on premise.
You can make Cognos Analytics dashboards using packages from TM1 or Planning Analytics cubes by creating the packages in the Cognos Administration console or with Framework Manager.
You can connect to Planning Analytics using the TM1 REST API which doesn't require any additional software to be installed. You create a connection to Planning Analytics from the Cognos Administration console by selecting the IBM Planning Analytics data source connection type.
The new Planning Analytics hierarchies appear and behave no differently than any other OLAP hierarchy in Cognos Analytics, but now you can have a TM1 dimension that has multiple hierarchies.
No excuses people, now is the time to take the leap. Call us at 1-800-QUEBIT1 we are ready and able to help guide you through the upgrade process. We have the expertise to do it for you or to help guide you through the whole process if you want to tackle this yourself.
Are you ready to take advantage of all the new features in Cognos Analytics 11.0.6?
Register Now for our upcoming Webinar: Preparing for your Cognos Upgrade - The road to the
Brave New World!