With the October 2020 release of IBM Planning Analytics Workspace (PAW) 2.0.57, IBM is boldly starting a brand-new chapter for Planning Analytics (TM1) leveraging their open source Carbon design system for products and digital experiences. Going forward, all IBM software products will share the Carbon look and feel.
These changes only affect the user experience in PAW:
It introduces new features like Guided Planning, built-in predictive forecasting and rich new visualization features
It fundamentally changes the user interface (UI) – but for the better
Mindful that change is not always perceived as "good", IBM is wisely proceeding with caution. Planning Analytics customers on the IBM Cloud will be able to Preview and test their applications in the new Carbon UI, before committing to an irreversible upgrade. On-premises Planning Analytics Local customers will be encouraged to test the new UI in their development environments but can rest assured that IBM will continue to maintain and support the last version in the old Classic UI (PAW 2.0.55) for the foreseeable future.
No one is to feel time-pressured to move to the new UI before they, and it, are ready.
IMPORTANT: Upgrading to the new version of PAW does not affect your underlying Planning Analytics models or your Planning Analytics for Excel (PAfE) reports.
All that said, QueBIT is very excited about where IBM is taking Planning Analytics! While we are not recommending that anyone upgrade to the new PAW UI right now in October 2020, we would encourage you to plan to explore it soon because – frankly – it makes Planning Analytics easier to use while significantly increasing the "cool" factor.
Here are five specific things you need to know, concluding with some QueBIT and IBM resources to help you make fully informed decisions:
1. Enhanced Visualizations and Reporting
Planning Analytics, even back in the TM1 days, had the best and most flexible Excel integration. Excel die-hards were empowered by its flexibility, and the ability to create formatted financial and management reports just-so. However, not everyone is an Excel die-hard which inhibited broader adoption outside of Finance and Accounting.
Classic PAW made some inroads towards addressing this issue, and went a long way towards opening up access to Planning Analytics, but it still fell short of being able to offer the kind of "pixel-perfect" reporting that a tool like IBM Cognos Analytics is capable of.
Until now.
Recognizing that Planning Analytics customers today need the same advanced visualizations in dashboards and reports that Cognos Analytics customers need, IBM has begun to merge the software engineering teams that deliver these features to both products so that the capabilities are the same, everywhere it makes sense.
Our favorites so far: waterfall charts (perfect for explaining budget to actual variances!), snap-to gridlines and smart context menus!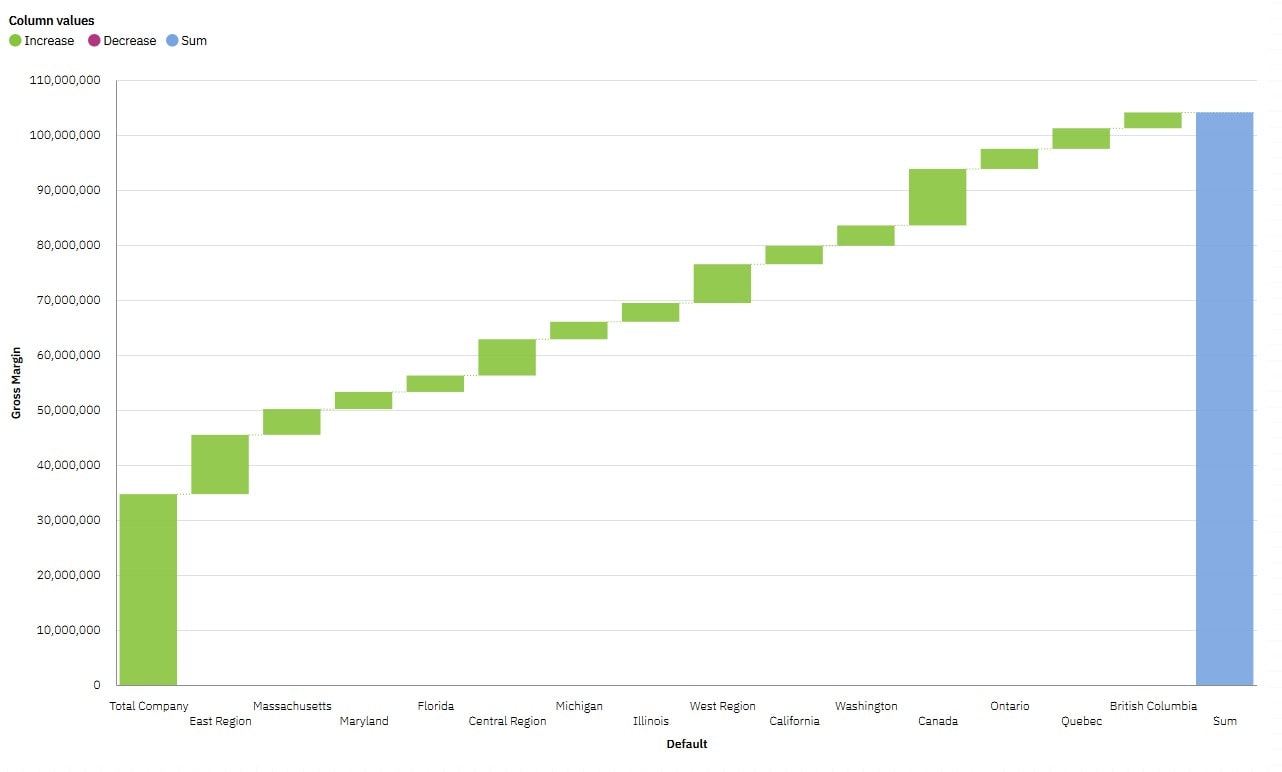 This also reduces training effort at organizations where both Cognos Analytics and Planning Analytics are used.
2. Guided Planning
As these words are being written in October 2020, many companies are in the throes of the "annual budget process". For most, this is a stressful time that layers additional deadlines and expectations on top of already-busy day jobs. The last thing anyone wants is to ALSO figure out how to navigate the budgeting system, which some people may not have logged into since last year.
Through the years, QueBIT has helped many clients create custom-built interfaces to ease this process, but custom-built interfaces – by their nature – are expensive and inflexible.
With the new Guided Planning capabilities (confusingly referred to as "Plans and Applications" in some of the documents and less confusingly as "Workflow" in others), administrators can easily create step-by-step guides for users to follow. Steps can be assigned to one or more users based on security groups, and end users see a clean polished interface showing them critical details like due dates, announcements, and links to the templates that are relevant for them.
Here is an example of what a user of a Monthly Reporting application might see: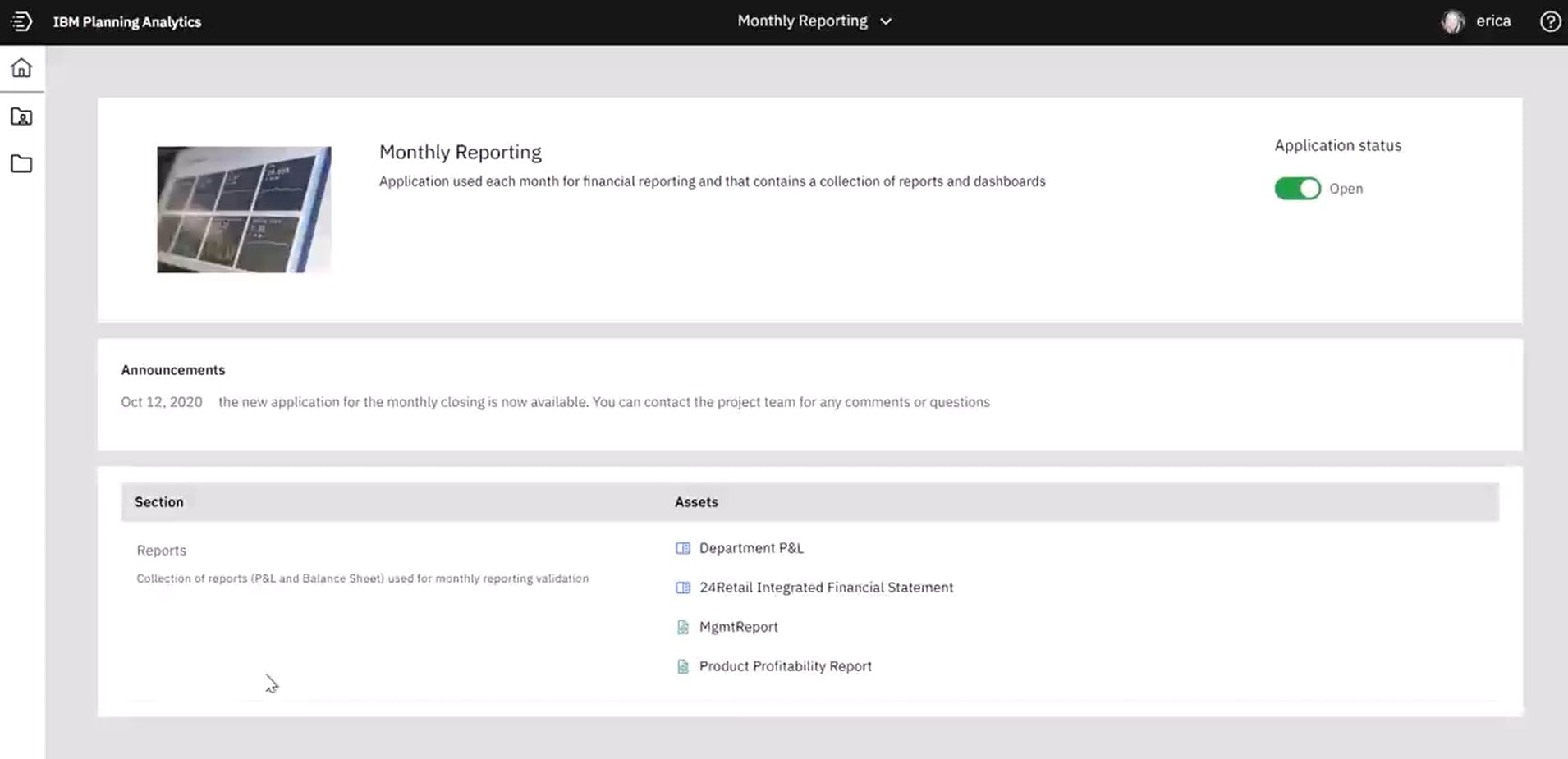 Guided Planning fills a gap that has long begged to be filled. IBM has tried to address this need before with components like TM1 Performance Modeler and TM1 Application Server and missed the mark.
IMPORTANT: "Applications" in Guided Planning's Plans and Applications are not the same as "applications" in TM1 Application Server.
What we like about Guided Planning is that it takes a very light approach in that it's starting as just a managed navigation framework within PAW, that does not make any assumptions about the underlying security model allowing developers to retain full control.
In future iterations of Guided Planning, capabilities will be added to bring us closer and closer to full submission/approval management in a way that is informed by customer experiences and does not impede flexibility. As developers, QueBIT is hoping for configurable "hooks" that would enable us to adjust the control of how the security model is updated in response to specific needs.
Regardless, this is an excellent start.
3. Predictive Machine Learning Forecasting
If you have heard just one thing about the new version of PAW, it's probably that it has built-in predictive time-series forecasting! Here too IBM has taken a light approach, focusing on ease-of-use that hides complexities like optimal algorithm selection. With just a few clicks, you can project the future based on the patterns in your historical data and save it to another version. PAW then reports back to you on accuracy and confidence intervals.
While you may not be ready to fully embrace machine learning as part of your planning and forecasting processes, this feature lets you dip your toe in the water at no additional cost, and with zero risk.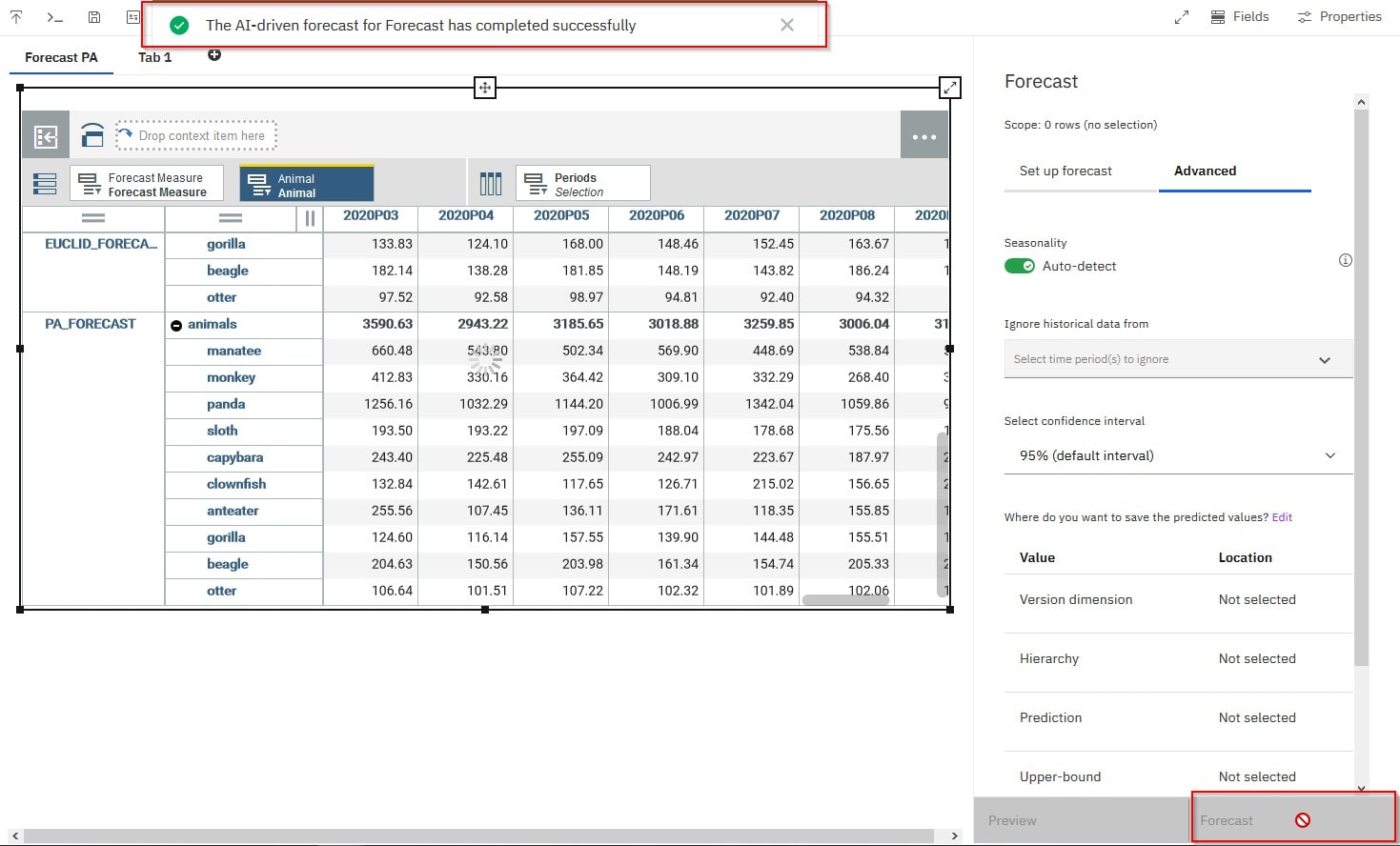 4. No Additional Software Cost!
If you are a Planning Analytics Cloud or Local (on-premises) customer, all these new features are available to you at no additional charge. The only exception is legacy TM1 customers who have not yet purchased the PAW upgrade.
To those customers we would say: perhaps it's time? 😊
5. Resources
QueBIT will be releasing more information on the new PAW release over the coming weeks. Our plans include videos, more blog posts and training offerings. Follow us on social media (LinkedIn, Facebook and Twitter @AskQueBIT) or subscribe to email updates to be notified as these become available.
If you would like advice on planning your upgrade now, just reach out to your QueBIT contact or email info@quebit.com.
Meanwhile, here are some links that we hope you will find helpful:
IBM Knowledge Center: What's new in PAW 2.0.57
Requires log-in to the IBM Planning Analytics Community: