If your scenario is such that you are an "on-premise" TM1 or IBM Planning Analytics user and have been "living" in Perspectives and Architect and, until recently, been very happy, but now find that you are struggling, having been pushed unexpectedly into a full time "working from a remote location" situation, you are not alone. The truth is, Perspectives was never designed to work over a WAN (Wide Area Network), across the internet, through a VPN or from most remote locations.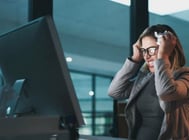 Suppose your organization has begun considering a move to IBM's Planning Analytics for Excel or "PAfE" (formerly known as PAx) but hasn't yet moved forward with that initiative and now you are unfortunately experiencing pain.
What can you do right now? .
As a short-term solution, if you have one or two key users and are running TM1 or Planning Analytics on Microsoft (MS) Windows, you could use the free Remote Desktop Services license that comes with most MS Windows servers. Remote Desktop Services (formerly known as MS Terminal Services) allows a limited number of concurrent users to access a MS Windows Server in order to provide access to applications running on a remote server. This is probably a solution that would be quick to set up, but keep in mind that performance will still be impacted by the server's resources, such as the amount of available RAM as RAM is used to run MS Excel/Perspectives sessions.
A more robust (and scalable) approach would be to create a Remote Desktop Protocol (or RDP) solution, using software such as CITRIX or MS Terminal Services. Remote Desktop Protocol is a proprietary protocol developed by Microsoft, which provides a user with a graphical interface to connect to another computer over a network connection. The RDP server in this scenario would need to be co-located with the TM1/Planning Analytics server and would then provide a "local like" level of performance, even from a remote location. Your organization might already be hosting a CITRIX (or similar) server to provide remote access to other applications, so you can start by checking with your IT support contact.
Click here to learn more about (MS) Remote Desktop Services.
Click here to learn about CITRIX Virtual Desktops.
Report Distribution
If you have a larger user audience that are dependent upon accessing TM1 or Planning Analytics report data, you can currently take advantage of QueBIT's ReportWORQ application, free of cost. With ReportWORQ, instead of ALL your users attempting to login, run and view reports independently, you can use that free Terminal Services/RDP session and ReportWORQ to run and email all reports (that don't have TM1 formulas in them) automatically to all end users. To help companies in this situation, QueBIT is offering an extended, no obligation to buy, 60-day free trial of ReportWORQ, plus up to 2 free hours helping with installation and configuration. This solution requires a bit more setup work but won't add cost in additional licensing, and with QueBIT's help, you can be up and running in a short period of time.
Click here to learn more about ReportWORQ for Planning Analytics and request your free trial.
Thinking Bigger
Regardless of any currently pressing situation, It's time to go to the new Planning Analytics for Excel (PAfE / PAx) add-in! There are no extra licensing fees, no terminal service or RDP requirements. It is proven stable and works very well over a WAN or VPN. If there is concern over upgrading legacy Perspectives reports, at this point, only a few very specific edge cases exist that would require users to still have access to Perspectives for report conversion.
PAfE does require setting up a PAW server and you will need some training on the tool. Don't worry! For training, there are plenty of free resource options (e.g. hands on labs at ibm.com/demos) plus QueBIT's own CBT's which can be purchased online at learn.quebit.com. As far as the PAW server? QueBIT has that covered as well. QueBIT can provide expert advice and is currently offering special discounts on packages to assess your situation, perform an upgrade if required and setup that PAW server in record time. Some packages also include training.
Click here to access IBM's free Hand-On Lab for Planning Analytics for Excel (2 hours)
Click here to purchase QueBIT's IBM Planning Analytics for Excel Computer-Based Learning class
Click here to register for for FREE April 9, 2020 webinar on Planning Analytics for Excel
Developers Too
If you have resources within your organization who are modelers, developers or otherwise providing administrative support for TM1 and Planning Analytics, it is now possible to maintain dimensions, TurboIntegrator scripts as well as rules using PAW, obviating any need for having access to Architect.
Once you setup a PAW server, even if you're not planning to use it for end user access, administrators are always entitled to use PAW to meet their needs.
Please contact QueBIT at info@quebit.com if you have any questions!
Conclusion
Hopefully some of this information will be helpful in addressing any near-term challenges you may be experiencing with Perspectives as well as get you thinking about what the next steps might be in your evolution to Planning Analytics for Excel. Either way, you can always contact QueBIT with any questions you may have.