IBM wants you (at least 60% of you anyway) to be boundless data explorers. They want you to fearlessly, confidently, and proactively plan, describe, diagnose, predict, and prescribe (actions) based on your organizations' information. They want you to seamlessly move from data prep, to modeling, to reporting and dashboarding, to dare I say, predictive analytics.
With the release of Cognos Analytics 11.1, IBM continues to build upon its efforts to streamline, standardize, and modernize the user experience across their analytics offerings, while also taking major steps at embedding artificial intelligence, machine learning, and advanced analytics across the entire Cognos Analytics experience.
Below is a high-level recap of what's new in CA 11.1 by area:
Dashboards
Dashboards continue to get a lot of the attention and improvements. As analytics are getting more democratized, they are also getting more visual. Changes in this release include:
Reuse - reuse content from existing reports and dashboards
Layout - more flexible templates and system assisted layouts
Formatting - more control over layouts and styling in visualizations
Geospatial - create your own map polygons and interact with data
Visualization - new visualizations including driver analysis
Exploration
Exploration is a new tool in CA11.1, it allows for data exploration and discovery capabilities powered by artificial intelligence (AI):
Helps eliminate analysis blind spots and guesswork by automatically identifying data relationships based on your recent interactions
Uncovers the underlying drivers of results and the strength of the relationships among the data fields
Provides recommended visualizations and presents additional AI-generated insights in natural language
Offers intelligent, contextual responses to your questions via the AI Assistant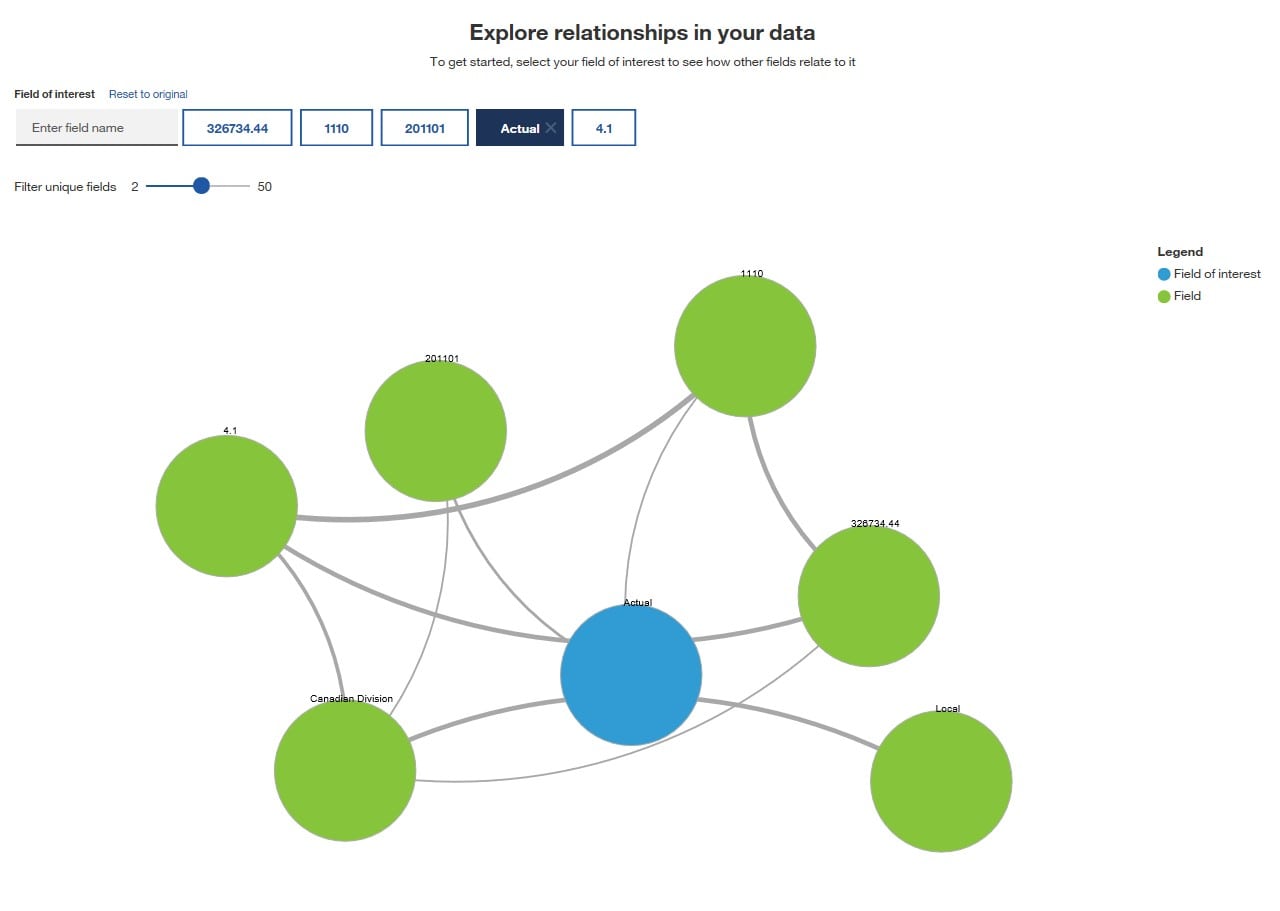 Reporting
Reporting is still the foundation of most Cognos Analytics environments and the tools and functionality available still represent a staggering array of features and functionality. Changes in this release include:
Layout and resize - easily layout and resize report objects using absolute positioning to support different screen resolutions
Quick assembly - users can quickly assemble a report using existing assets without having to start from scratch
Visualizations - meaningful visualizations are auto generated with little authoring experience
Measures - measures are automatically summarized with meaningful titles
Reusability - styles can be reused across reports
Data modeling/prep
Data modeling/prep continue to move from the domain of the admin to the explorer. And while IBM assures that Framework Manager is not going away and there are no plans for it to go away, much of what can be done in FM can now be accomplished with data modules, and in the future it's not hard to envision all modeling capacities will be available in Cognos Analytics. Changes in this release include:
Flat file - multi tab support and append
Comparative dates - month to date, quarter to date, prior quarter to date
Data preparation - split column, trim, case
Recommendation on relationships - join, blend
Aggregation across grains - multi grain analysis
Ease of use - expression editor, SQL based tables, format, filter
Set operations - Union, intersect, except
Security filters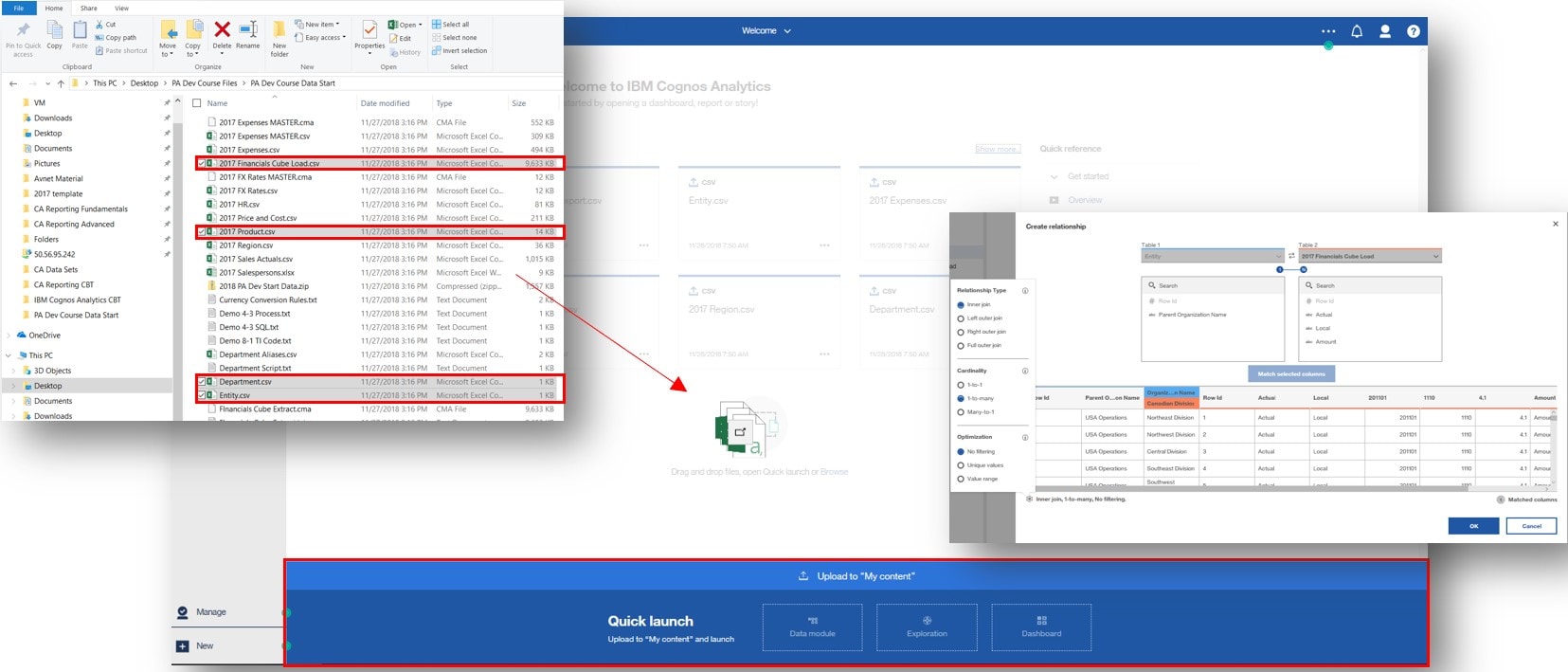 At times, it feels a bit like too much too fast to comprehend what's available and what's possible to Cognos Analytics users. To help customers get up to speed on Cognos Analytics and the new release, keep an eye out for helpful resources such as, a free trial of CA 11.1, new videos highlighting new features in CA 11.1 and additional blog posts exploring the new release further.
Join us for a complimentary webinar to

learn more about recent advancements in Cognos Analytics 11.1 on

Thursday, January 10th at 2 pm EST
It is impressive and wholly apparent how useful, relevant, and, powerful these tools are for not only today's Cognos Analytics users, but also the next 100 years of business at large. While some of the advanced analytics capabilities available in Cognos Analytics 11.1 may still feel a bit out of reach for most of today's analytics users (and perhaps rightly should be out of reach), by embedding these into the overall Cognos Analytics user experience, those of you intrepid enough to be boundless data explorers will continue to develop and evolve into more confident, savvy, and smarter analytics professionals.

Try IBM Cognos Analytics 11.1 for FREE for 30 days!