New to Pax?
With the move from Perspectives to the new-and-improved Planning Analytics for Excel – many people are asking "Where is my Print Report?" For those of you who've never experienced Print Report before, it was a feature in Perspectives that allowed users to generate reports with multiple sheets or books driven off of subsets. This was used to package up and email reports to users or publish them to SharePoint. Unfortunately, this feature is not available in PAx.
Print Report Example
To show you an example of Print Report functionality lets walk through creating a simple quarterly revenue report that we want to burst out for each business unit.
Report Layout

Subset selections
Once you have your source report laid out in Perspectives you can use Print Report to define the subset(s) which you want to use to create individual reports from. In this example we will just choose a subset for the plan_business_unit dimension and we will expect to receive a version of this report for each business unit in that subset. Alternatively, we could choose to receive a single report with many tabs representing each business unit by selecting the "Print Single Workbook" option.

Output Selection
The last step in Print Report is to choose how you want the reports to be output. Your choices are to print the results, output them to Excel files, or output them to PDF files. You also can choose to generate titles for each of the workbooks you output and whether you intended to include the TM1 formulas in the report.

The output
After running the Print Report definition, we setup we can see it created all 9 sheets we expected.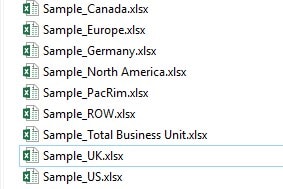 Here is an example of one of the outputs:

Print Report may not be available but QueBIT has you covered!
If you are looking for the full functionality of Print Report and more QueBIT's ReportWORQ product is for you! ReportWORQ contains the same functionality as Print Report and much more! Here are just some of the additional features available in ReportWORQ:
Automated Execution of Reporting Jobs with ReportWORQ Server
Automated Email, SharePoint, and File Output distribution
Simple distribution setup with the use of Recipients
Combine many reports into a single book which you can distribute
Intuitive user interface to make job management a breeze
Focus on your business
ReportWORQ allows you to focus on your more pressing business problems and it takes care of the your daily reporting and distribution needs. ReportWORQ isn't a reporting utility but rather a reporting platform that gives you transparency in to your reporting process while providing an intuitive strategy for managing it. Try ReportWORQ free today and see how it can help you take reporting to the next level!
You can find more details on ReportWORQ here!