Partnerships are all about connecting the people and processes of multiple organizations to drive better results for the partner entities and their customers. We are pleased to announce the addition of Anaplan, the leader in "Connected Planning", to QueBIT's planning and analytics portfolio.
Anaplan defines Connected Planning as a platform that allows people, data and plans to interact directly so you can better manage planning processes at every level. The QueBIT mantra of "Analyze. Plan. Achieve." has always been about connecting operational plans to the overall financial goals of the organization. Recently, we have more clearly aligned our mantra around Gartner's xP&A vision. Gartner, the global research and advisory firm, estimates "By 2024, 70% of new financial planning and analysis projects will become extended planning and analysis (xP&A) projects."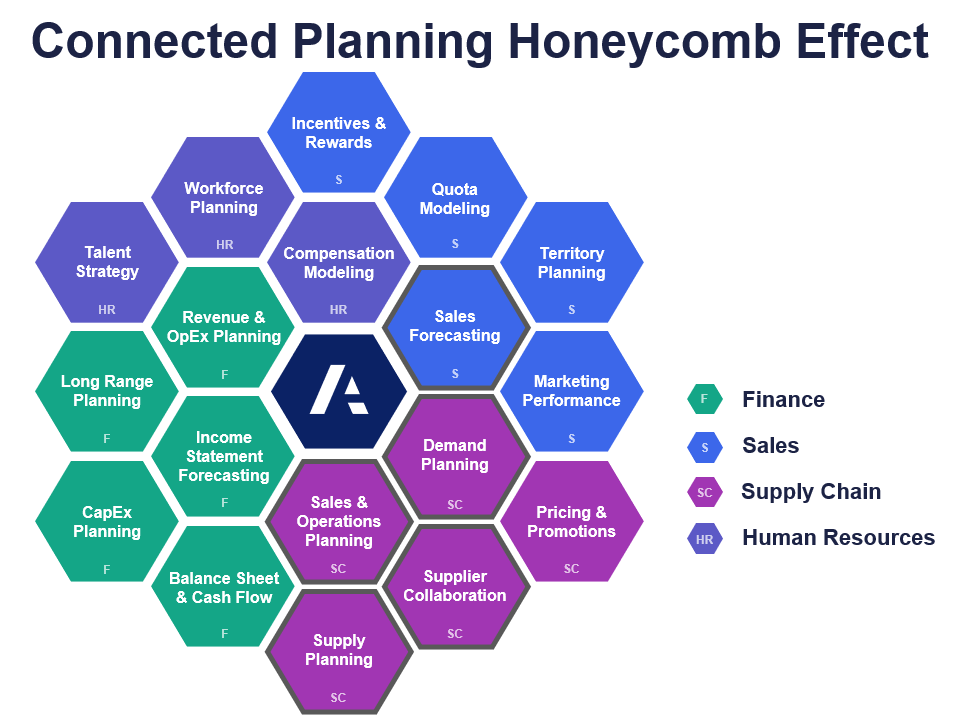 In other words, xP&A is the way of the future. "It's official – financial planning alone isn't enough if you want to succeed." This is what Gartner revealed in 2020 when it coined the term Extended Planning & Analysis (xP&A). "xP&A is a response to the challenges faced by enterprises seeking to exploit new digital business models and navigate current economic uncertainties… It is a platform-centric enterprise planning strategy that extends FP&A use cases beyond finance by adding resident operational applications that use the same composable vendor platform, architecture, and data model to improve alignment. Newly added planning disciplines beyond those of the finance department include supply chain, sales, marketing, human resources and IT."
xP&A extends connected planning by: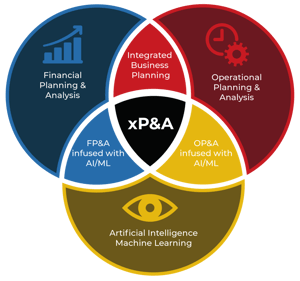 Infusing AI & Machine Learning in the operational and financial plans.
Defining a data management methodology.
Defining a reporting and analysis approach.
Infusing predictive analytics across the organization is a journey. This journey is a growing trend as executives aspire to implement tools to support more data driven decision-making and drive new offerings and business models. Reducing human bias and non-data derived decisions are the goal in becoming a predictive fueled organization. No longer is it just a desire to become more forecast driven, it is becoming a requirement for survival. There needs to be a sustained commitment not only to modernize planning systems, but to roll them out across every financial and operational planning process.
Underpinning these redesigns should be a solid data management methodology. A recent Forbes article points out that 67% of CEOs ignore data driven analytic and predictive models provided by IT teams. The article goes on to explain that the data used is fragmented and up to 73% is unused for insights. Models using only 27% of the organization's data results in poor performing forecasts. In addition, most of the models only use historical data, missing out on the opportunity to use causal or real-time streaming data in the model. Its apparent that a solid data management approach is a must for successful infusion of predictive analytics.
Infusion of AI/ML and data management is foundational to xP&A and presents a clear pathway for end-users and decision makers to easily consume the information without hours of inefficient data manipulation. A common set of KPIs, reports and dashboards are essential to eliminating guesswork and uncovering trends that allow for proactive decision making. Measuring the accuracy of historical forecasts and the ability to create and analyze multiple scenarios provides a basis to improve the process. All these elements are crucial considerations when devising a reporting and analysis approach that leads to success.
QueBIT and Anaplan understand these common themes and have successfully implemented solutions in some of the world's most successful and complex organizations.
The addition of Anaplan to QueBIT's offerings is one more way that clients can benefit from QueBIT experience in enterprise planning. By leveraging Anaplan's connected planning platform and QueBIT's expertise in predictive analytics and data management, together, we can achieve success!