Every company plans. Historically, corporate financial planning has been a predictable, sometimes painful, process that brought managers together to make decisions about future company direction and priorities, while also providing a benchmark against which to measure performance.
This worked well enough back when the business climate was steady year-over-year and any assumptions you made about growth, customer retention, and inflation rates (for example) were likely to hold. But our recent experiences with pandemics, weather-related catastrophes, and political upheaval have reminded us that predictability may be the exception rather than the norm.
The insurance industry plays a unique role in helping every other industry (and individuals!) to manage risk in the face of uncertainty. The question for every insurer is how well-equipped they are to manage their own risk, and it begins with understanding the financial impact of changing assumptions on all parts of the business. Insurers who can explore possible futures rapidly and with agility will make better-informed hedging decisions and have better opportunities to increase competitiveness and profitability.
Here's the rub: you cannot be agile if you are locked into a self-imposed annual plan and quarterly forecasting schedule. Nor can you be agile if your process for building an interconnected financial plan is cumbersome, poorly supported by technology, and dependent on data that takes too much time to get at.
Technology alone does not bring the agility that insurers need, but this much is certain: technology is necessary to speed up your planning process while improving the quality of forecasts through collaboration, security, and better use of available data.
This is why QueBIT, a consultancy with a long history of serving insurance industry clients, developed its pre-built, but customizable, Insurance Solution on the Workday Adaptive Planning platform.
The QueBIT Insurance Solution consists of a planning model for Property and Casualty (P&C) insurers that derives underwriting performance by line of business and geography, in combination with headcount and other expense planning. More information about the QueBIT Insurance Solution is available on the Workday Marketplace for Workday Adaptive Planning solutions.
The purpose of the QueBIT Industry Solution is to serve as a quick-start model that includes all the major Profit & Loss (P&L) planning components all P&C insurers need. This reduces implementation time, cost, and project risk by reducing the effort around requirements gathering by providing a relevant and detailed framework, while still allowing for report, input template, and calculation customization.
The model is driven by Written Premium inputs from which Earned Premium by month is dynamically calculated based on earn-out assumptions, on top of which are layered loss-ratio assumptions, Deferred Acquisition Costs (DAC), headcount, and expense planning.
Because the model manages data centrally and securely, and incorporates automation and dynamic real-time calculations, consolidated reports are available immediately, cutting planning and forecasting effort from weeks down to days or even hours. This acceleration, together with the built-in ability of Workday Adaptive Planning to track and compare multiple scenarios, is what facilitates agile, proactive, what-if scenario planning, and enables insurers to forecast as frequently as they need to in order to respond to changing conditions.
The screenshot below shows one of the standard dashboards from the solution that summarizes Written and Earned premium by line of business. Written premium is typically pre-seeded from the existing book of business by loading data directly from the appropriate source system to use as a starting point, before layering in new business and customer retention assumptions.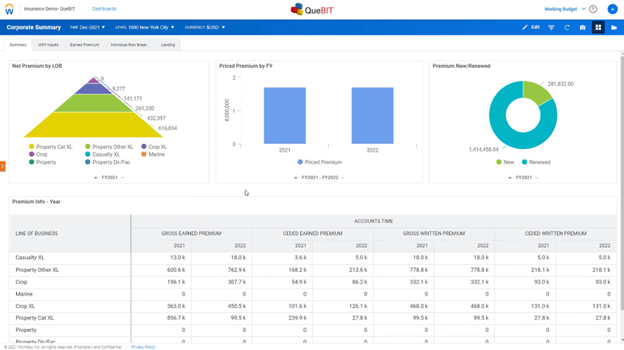 Furthermore, this model is designed to be a springboard to support comprehensive financial planning, analysis, and reporting for the insurance industry including reserving, balance sheet and cash flow planning, and customer profitability modeling.
Learn more about QueBIT's offerings for the Insurance industry here, or contact us for a free consultation at info@quebit.com.