IBM's global conference event was held last week under the moniker 'THINK' for the second year in a row. This year's conference took over the SOMA district of San Francisco with 30,000 attendees occupying 117 hotels in the area. This marks a break from 12 straight years of a Las Vegas based event, and the blend of indoor and outdoor venues was a welcomed change from the crowded hallways and slot machines of the Mandalay Bay. Unfortunately, there was a torrential downpour throughout the week which put a damper on several of the outdoor events (and yielded 60,000 wet shoes!), but the innovative Moscone Center was fresh off of completing a $551 million makeover and has tons of potential as a world class setting. IBM already has the venue under contract for 2020 and we look forward to returning to a drier event next year.
QueBIT was there in force all week to support our strong and tenured partnership with IBM. Eight of us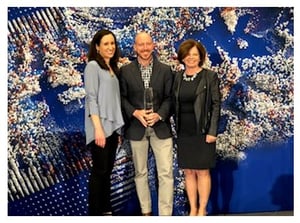 attended in all with Catherine Jirak, COO, Gary Corrigan, SVP of Sales and myself also attending the PartnerWorld event on Monday and Tuesday. As IBM's top analytics partner, QueBIT was invited to present three separate client success stories from each of our practice areas: Leonard Holdings presented their food recall monitoring solution using Cognos Analytics alongside Principal Consultant Joel Kehm, Theravance BioPharma presented their next level planning solution in Planning Analytics Workspace with Implementation Manager Andrew Leighton (which took place in the cozy AMC Metreon movie theater!), and Westrock presented their predictive demand SIOP solution using Galileo with Director of Strategy and Process Improvement for Advanced Analytics Tim Corrigan.
QueBIT also left town with some nice hardware; on Tuesday we were presented with North America AI Business Partner of the Year and on Wednesday IBM conferred the Worldwide Planning Analytics Local Partner of the Year. IBM did not give out partner awards in 2017 so we were grateful that they've resumed this important tradition and are thankful for these honors. Tuesday night we hosted a client appreciation dinner where we broke bread with and gave thanks to a room full of customers who have helped us achieve these accolades year after year- Thank YOU!
THINK also featured no lack of star power! CEO Ginny Rometty delivered the kickoff address with big announcements about the launch of Watson Anywhere as well as panel discussions with her executive colleagues at Red Hat, GEICO, Hyundai, Kaiser, and AT&T; each executive prefaced their speeches with a selfie on stage with Ginny! Deion 'Prime Time' Sanders taught us that all we really have is our TIME; invest it wisely in the people and activities you love. Ashton Kutcher spoke about his successful career as a tech investor and his philosophy on innovating, "don't chase the technology, chase the behavior"; some very wise words from Kelso! Joe Montana's keynote included the importance of focusing on the fundamentals (both in the NFL and in business) when things go sideways. Tony Hawk instructed everyone that it's okay to fall as long as you keep getting back up...and that if Activision offers half a million bucks to buyout your video game royalties (now worth hundreds of millions) - Just Say No!
Finally, THINK was a great opportunity for the QueBIT team to reconnect live with IBM leadership, sales representatives, and product architects. QueBIT's partnership with IBM dates back for over a decade and continues to grow stronger. We work together week in and week out on innovating and applying analytics technologies, and it was nice to spend time with them face to face to discuss current challenges our customers face and the future roadmaps of Planning and Cognos Analytics.
All in all, the rain couldn't prevent the masses from having a wonderful conference and building up great enthusiasm for the year ahead!