With big data and analytics becoming such an important strategic initiative for businesses, the margin of error for project planning and execution can't be taken for granted. There are a lot of critical steps involved to ensure you are getting the most out of your analytics investment. You need to have a dependable plan to establish key business requirements, reaffirm business goals, and match your investment priorities with the overarching business s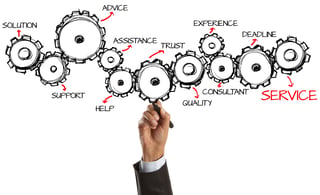 trategy.
As McKinsey observed about big data preparation: "The answer, simply put, is to develop a plan. Literally. It may sound obvious, but in our experience, the missing step for most companies is spending the time required to create a simple plan for how data, analytics, frontline tools, and people come together to create business value."
With so many moving parts, the initial planning phases can be daunting, especially when it comes to assessing your big data and analytics readiness.
This is where QueBIT comes into the picture. We can be your strategic and consultative arm to guide you through the right solution planning steps – whether that means augmenting your current analytics tools, implementing new technology, or supporting your post-implementation needs.
Strategic Consulting
Initiate your business analytics project with our expert strategic advice.
QueBIT will help you determine which functions in your organization will benefit the most from analytics and recommend the best-fit technology to solve your unique business problems. In the process, we ensure you leverage any existing analytics investments so you derive the most value from your solution.
Critical steps include:
Requirements Analysis: We will ascertain business and software requirements in a shorter timeframe than most consulting firms.
Business Process Review: With this step, we will figure out which business processes are effective and which ones need to be adjusted to align with analytics software systems.
Due Diligence and Final Decision: As we approach decision time, we will advise you on the most important factors that require due diligence.
Business Intelligence and Analytics Readiness
As part of our strategic consulting services, we will also assess your organizational readiness for either an expansion of analytics capabilities or a new implementation.
We will:
Conduct a readiness assessment based on where your business is today and where you hope to be in the future.
Guide your organization with our predictive and prescriptive analytics readiness and road-mapping offerings – built for short and long-term predictive and prescriptive analytics goals.
Identify opportunities to better leverage your current investment and take advantage of new product features within the IBM analytics product line.
Once these readiness assessments are complete, our team will work with your team to develop a realistic go-forward plan.
Implementation Services and Methodology
Every implementation begins with the question: What problem does our customer need our help to solve?
Focusing on understanding the true problem is fundamental to QueBIT's Collaborative And Rapid Enablement (CARE) implementation methodology, which has enabled us to minimize risk and maximize value for hundreds of clients since 2001.
What does CARE represent for IBM Cognos software implementation?
Partnership and collaboration
Agile, efficient development
Empowerment for clients to "own" the solution
Skills transfer and access to highly-skilled QueBIT consultants
Quality Services and Support
QueBIT Quality Services (QQS) closes the gap in skills and resource management for customers trying to maintain their own systems.
We deliver:
Value: We leverage our experience of 350 successful implementations to deliver a cost-effective alternative to in-house management of analytics systems.
Expertise: We offer deep IBM Analytics experience for managing and maintaining applications across a wide range of vertical markets.
Support: Our support desk can deliver in-house support for analytics systems, with a guaranteed response within 24 hours.
Want to get more insight into these different services? Contact our team today!