Supply chain is considered part of every broad and little aspect of business (including raw material acquisition, product distribution, and customer service) and the Supply Chain function has added tremendous value and strengthened operational efficiency. It has also embraced a lot of uncertainty, including demand fluctuations, to support continuous improvement and deliver return on asset employed. Unfortunately, the last two years have put a lot of strain on the overall supply chain, and this has re-ignited discussion around scenario planning in supply chain, especially related to demand variability.
Evolution and benefits of Scenario plan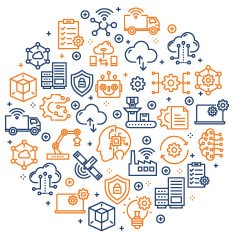 Historically, a single forecast was used to generate a single plan, but as the market becomes increasingly volatile and competitive, it has become important to review what-if scenarios. One of the approaches, which has helped organizations manage uncertainty in the past, has been the usage of multiple versions of forecast, and its impact on the overall supply chain flow. It has now become more important and necessary to identify risk (internal and external), assess those risks, and take preventive measures to avoid failures.
Scenario plan is useful whenever there is a high amount of uncertainty in any aspect of business. The uncertainty can impact the outcome in significant ways, and therefore thorough analysis and scenario plan it helps to visualize the complexity and plan mitigation steps. Scenario planning also allows stake holders and leaders to make and review assumptions on how the future would look by changing any of the assumptions. These assumptions or impactors could be anything (from finance to logistics to labor to political impact or to macro environment) and could impact the future outcome of business. The idea here is to use the tool effectively for contingency planning to mitigate any possible risk.
Scenario planning involves building different scenarios, analyzing them, predicting, and proposing robust backup plans. The evolution of scenario-based planning has helped organizations adopt not only the concept of strategic planning process but also operational decision making. Scenario planning has evolved and found itself being used in every timeframe and every area of the corporate world. It has helped many organizations review decisions and inform them of immediate needs or long-term capital requirements.
Scenario planning can help in many areas
Identification of right impactors and drivers are critical to the quality of the scenario plan. The assumptions will make significant impact to the outcome and will add quality to the scenario plan exercise. As mentioned earlier, these impactors could be external such as macro or micro economic impactors, customer buying patterns, commodity costs (including raw material prices), inflation, or government policy or internal. An organization can build multiple scenarios to support long term decision making or short term for quick tradeoff decisions.
Let's list down few general business areas in which scenario planning exercise can help:
Manufacturing / Operations: Production tradeoffs, customer service trade offs
Customer / Top line: Demand prioritization, product allocation, demand / supply alignment
Timing mismatch: Demand expectation vs product availability, immediate and long-term product mix decision
Human Resources: Head count expansion

Sales & Marketing: Market based decision impacting entry / exit & Product Pricing

Financial: Investment decision impacting CAPEX decisions
Strategic direction: New Market expansion, new production facility
Above areas are diverse and may need more than 1 scenario to comprehend the true impact of these events. Some areas could have an impact across different timeframe, and accordingly decisions would be taken by leaders. It is important to not only build scenarios but also focus on the quality of the assumptions, as it would impact the quality and strategic decision accordingly.
Scenario Planning steps
On demand scenario planning should not be mixed or confused with real time demand pacing, as real time demand pacing supports S&OE and S&OP discussion and decision making to meet financial objectives. The pacing report can initiate the discussion around scenario planning and provide visibility to critical uncertainties. The planning processes should be able to consolidate data points to validate and evaluate the extent to which it will impact the outcome, as scenario planning exercise can support strategic and tactical direction. For e.g., multiple demand-based scenarios provide flexibility to review outcomes based on better modeling and resource allocation.
Broadly, the exercise can be broken down into four steps.
List down possible future scenarios across different timeframe. If the organization has regular business and financial alignment (either through S&OP exercise or any other exercise) then listing down of all strategic goals is a good point to start with.
Identify all the assumptions or drivers, which could change and impact the outcome of future business results. The drivers could change over time and evolve with a changing market or political or competitive landscape. For example, the pandemic and lockdown has really impacted a lot of industries and the flow of product and services.
Once the assumption list is aligned with current and future state, the next step is to focus on detail research, as part of understanding and analysis. The idea is to dig deep on every aspect of that driver and use the best information available to develop scenario plan.
Lastly, this exercise should be well documented (including conducting it on standardized scenario template, and periodic updates to the assumption data) to build on exercise and ensure standardized set of sound judgement guidelines. This also helps the organization to own a well-maintained set of scenarios on a continuous basis to assess performance versus original plan and make adjustments on short notice.
Every scenario should provide a call to action, and the necessary plan and path should be clearly described, if that hypothesis comes to fruition. This is an excellent tool for effective S&OP (Sales and Operations Planning) and should not be used either as a one-off exercise or simply a version repository. Scenario planning is a great addition to the management toolbox and should be part of the regular S&OP process or long-range planning discussion. The goal of the management team should be to incorporate this as part of organization DNA and should be reviewed in regular planning process. Scenario planning processes can be further improved by reviewing actual scenario performance, key lessons learned from past exercises, assumption validation, and periodic feedback from cross functional team members. If an organization doesn't adopt effective scenario planning exercise, it may miss out on long range profits, its soaring growth, customer loyalty, agility, investment, and many more areas. In summary, scenario planning provides a structured way to visualize different reality paths, based on the assumption change. Scenario planning makes you aware of various situations that your organization's future may hold, and its true impact on the strategic, tactical, operational, and financial planning. Scenario planning is inevitable and helps you to make the right turn at the right time.