The Office of Finance is increasingly moving away from traditional, score-keeping focused frameworks like CPM and embracing cross-functional planning that is collaborative and strategic.
Corporate Performance Management (CPM) has long been a way for organizations to monitor and manage business performance. The broad CPM framework provides latitude for customization to a given business's needs while monitoring performance against a set of KPIs. Sounds great, right? Wrong.
CPM no longer provides enough value to companies to be an effective approach. CPM is backward looking – it tells you how things in past performed but doesn't give much guidance on where performance is trending in the future. That's why we're increasingly seeing the office of Finance embrace xP&A: eXtended Planning and Analysis (xP&A).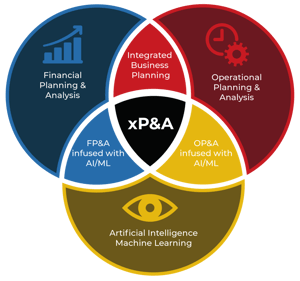 xP&A in its highest form is an active, collaborative approach to cross-functional business planning that incorporates Artificial Intelligence (AI) and Machine Learning (ML) with data integration best practices. xP&A can tie together financial (revenue, COGS) with operational data (sales orders, inventory, headcount), helping everyone involved in the planning process speak the same language. xP&A also facilitates scientific, automated baseline forecasts based on unbiased historical data.
The table below shows a quick comparison of these two management approaches.
CPM

xP&A

Backward looking
Focused on score-keeping
Implemented selectively or at a departmental level
Works with data as-is to calculate metrics
Future is based on wishful thinking or a budgeted number

Predictive, forward planning
Focused on a realistic forecast
Integrates data and processes from across the organization
Combines and orchestrates enterprise data for buy-in and understanding

Brings in AI+ML for accurate, revealing forecasts quickly
xP&A helps the Office of Finance create a robust, detailed, and accurate business plan. But the real outcome from xP&A is integration and alignment between the Operations and Finance departments. At one recent client where we implemented an xP&A approach, the Operations team spent too much time creating irrelevant manual forecasts while the Finance team didn't understand the true drivers of the business. After we had implemented xP&A systems and processes, the business began working together on the future plans. All departments could validate and trust the data, and machine learning models, not black boxes, helped to create an accurate forecast of the future.
Nearly every CFO wants to be a strategic business partner, not a score-keeper. To move in that direction and provide more value than just closing the books each month, CFOs and FP&A teams are embracing xP&A. With more collaboration, better accuracy and cross-functional buy-in -- xP&A is a better fit for today's planning environment.