When it comes to the subject of analytics, businesses are well-acquainted with the value it brings. As Deloitte stated in their Analytics Trends 2015 report, if it seems like any of the hype is wearing off from business analytics, "It's not because fewer companies are embracing the di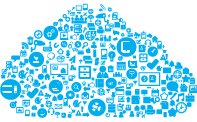 scipline."
If anything, analytics-based decision-making is becoming a more critical strategic initiative by the day. Where organizations are getting tripped up is at the onboarding and deployment phase. They are trying to align their infrastructure capabilities to support analytics functionality. Depending on the resources at their disposal, the act of simply getting started with analytics can hit a standstill.
Cloud-configured analytics solutions are the ideal option for organizations that don't have the in-house horsepower to handle advanced analytics workloads.
Whether these organizations go the complete consumption route or the different hosting routes, they can turn to a cloud provider to outsource their needs. However, security remains the Catch-22 for cloud acceptance.
As Deloitte pointed out in their report, data security is one of the key contributors to any level of overall security angst. "Business and tech leaders alike are deeply anxious about this issue, and they're attaching big budget numbers to data security."

Recent tales of cloud security hacks and breaches haven't helped to quell those data security concerns, either. If you're a healthcare organization, sure, a cloud-powered analytics solution can help you gain insights to improve patient outcomes or improve billing. But given the compliance factors involved with protecting and validating patient data, is hosting that information in the cloud worth the risk?
That's the question that different organizations in different industries are asking themselves. And if they answer no, it's because they believe that the reward that analytics bring doesn't warrant the risk of unreliable security in the cloud.
However, the reality is that the cloud can improve and even simplify data security measures in a lot of ways.
For one thing, going the cloud route for analytics also means you are inheriting more robust security resources and a dedicated cloud team that can proactively monitor your data. Yes, there is a risk in entrusting your data to a third-party. But that risk is no greater than trying to manage data security on your own.
Additionally, depending on your compliance or data governance needs, there are different cloud deployment options available.
Going back to the healthcare scenario, certain data can be kept in a private cloud or hosted on-premises altogether.
There are viable options available through the cloud that enable analytics to prosper without ramping up the security concerns. If decision-makers can strike the right balance, they'll be in position to harness the benefits that the cloud and analytics bring.
Join QueBIT on this free educational webinar and explore your path on the Bridge to the Cloud. Register today!
Click to edit your new post...