Having missed Adaptive Live the past couple of years due to the global pandemic, it was very exciting to be back in person at Workday Rising 2022 last week in Orlando! Between in-person and virtual, there were roughly 19,000 attendees! If you couldn't attend, I'd suggest blocking off your calendar for next year's event to be hosted in San Francisco the week of September 25, 2023.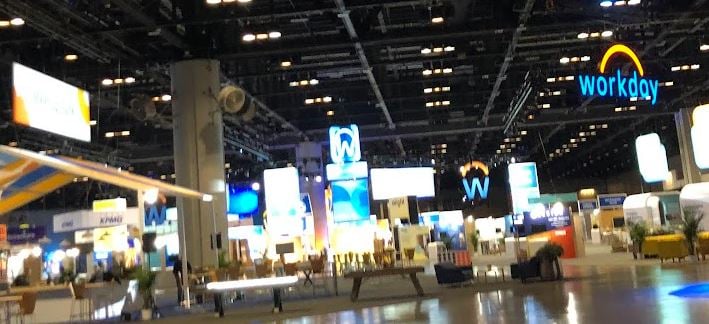 From Expo booths to client success stories to learning sessions, Adaptive Planning was well represented at the Workday conference. I filled my calendar with Adaptive specific sessions ranging from advanced reporting and modeling, best practices, what's new, continuous planning & scenario analysis, technical overview, and Machine Learning. I walked away with lots of valuable information from each, too much to fully share…below I'll do my best to summarize some key points.
Advanced Reporting & Modeling + Best Practices
Dashboards – USE THEM! Make them interactive by embedding planning sheets and providing your end users with a guided, one-stop-shop planning experience

OfficeConnect – easily nest multiple dimensions along the rows with drag-and-drop capabilities, just like web reports, and use the new Expand options to analyze your data easily and quickly in Excel

Modeled sheets are better for large data sets, Cube sheets are better for having actual vs budget data.

Import mappings – map everything in your loaders, even for data you don't want…map it to "garbage" custom accounts so your loaders won't error out and you can simply ignore the data
Validation – prevent user edits on accounts using shared formulas, take advantage of cell explorer, use standard sheets to audit modeled accounts, break apart complex formulas into smaller accounts
What's New in Adaptive? 2022R2 released on September 9th…
Alternate calendars, adding cube rows in bulk, contra GL accounts, OfficeConnect expansion settings

Potential Future Enhancements – columnar view in cube sheets, web report links on dashboards, guided planning configuration tool
Continuous Planning & Scenario Analysis
Virtual versions – utilize to easily analyze FX related variances

Machine Learning – built in anomaly detection to find outliers in your planning

Scenario as a dimension – within a single planning version, quickly analyze baseline vs best case vs worse case with a Scenario dimension

Waterfall charts – not just in Excel…take advantage of these in Dashboards to evaluate a rollup account or a leaf account by certain dimensionality
Technical Overview
ELASTIC HYPERCUBE TECHNOLOGY!

Built to scale with your models and quickly evaluate formulas and display the desired data

All in memory, in real time

Unlimited dimensions, GL COA, Levels, and versions

B

uilt in security to dynamically control each user's data access
Machine Learning
Sounds futuristic, but it's for today and ever improving and growing

Built in anomaly detection in Standard sheets

Customizable ML forecast drivers and methods (early adopters only) for intelligent planning
ReportWORQ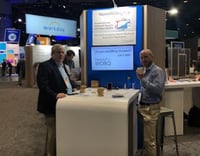 In between Adaptive sessions, I roamed the Expo center filled with hundreds of interesting booths and spent time at QueBIT's very own ReportWORQ booth! What a great success it was – my colleagues and I had the pleasure of talking to many OfficeConnect users (and plenty of prospective Adaptive clients) about the value ReportWORQ adds. For those of you who are manually refreshing and filtering OfficeConnect reports by Department or Cost Center (or any other dimensionality) each month and creating countless emails to distribute the analysis, save your limited time and automate this process with ReportWORQ!
Work Hard, Play Hard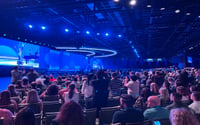 While the expo and sessions were truly enjoyable, I'd be remiss not to mention the extracurriculars Workday provided. From opening the conference with an hour-long concert by Grammy award-winner Jon Batiste, delicious food and drinks throughout, to a customer appreciation party hosted at Universal Studios – Workday Rising 2022 was a success. Hope to see you next year in San Francisco for Workday Rising 2023!