QueBIT launches new Cognos Analytics learning video playlist.
QueBIT is proud to announce the launch of a new Cognos Analytics video playlist, which is designed to provide individuals with access to a wide range of expanding business analytics learning opportunities. These videos are created by QueBIT's in-house analytics experts, and are designed to promote learning of fundamental through advanced topics, along with practical applications and best practices.
The pace of technology and business is moving very fast and there's always something new to learn. IBM has taken an agile approach to software development, releasing updates, enhancements, and features about every 6 months. To keep pace, you must be committed to iterative, lifelong learning. QueBIT's Cognos Analytics videos are intended to be consumed on demand as quick learning modules, and when combined, the modules create an invaluable critical mass of knowledge and skills.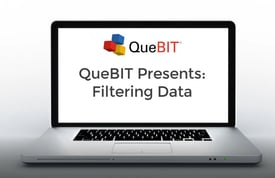 The first video in the playlist focuses on the new filter functionality in Cognos Analytics. Beyond the updated look, one key enhancement in Cognos Analytics is the flexibility of filtering data in reports. This video reviews items such as the new interactive viewer and filter panel, the on-demand toolbar to create filters directly on the report output, creating simple calculations, sorting, and much more.
Videos include:
Improved support for maps
This video will provide an introduction to the new and much improved mapping engine in Cognos Analytics, which now includes the ability to zoom in and out on maps in a report without needing to re-render the report, and integration with Mapbox
Navigation enhancements
This video will offer a look at the new navigation paths functionality in Cognos Analytics, which allows users to create virtual dimensions off of attribute data, providing never seen before possibilities for slicing and analyzing the data. These virtual dimensions can be logical in nature, e.g. Product Category > Subcategory > Product, or non-logical, e.g. Reseller Type > Region > Year.
Make your data work for you
This video will explore the new options for working with external and enterprise data. With the release of Cognos Analytics, we see the first true approach to ad-hoc model development. The addition of the new Data Module functionality provides individual users the ability to easily bring in external data and map it to an existing enterprise data package to create hybrid, custom data sets.
Users can select and modify multiple sources, merge data, cleanse data, and derive new data to create new custom data sets. The external data can be flat files that live on premise or somewhere in the cloud. The new custom data sets can be used for an individual's own analytic needs and/or can be shared with others across an organization.
QueBIT is working hard to identify and produce additional videos on topics of most interest and relevance to you, so please keep an eye out for videos to come. But also reach out and let us know what you'd like to learn about and maybe we'll create a video on your topic. So, when you're ready to learn, queue the video and press play!
Also, see our Planning Analytics playlist!