Imagine any milestone in your lifetime when fear potentially stood in the way of watershed success. Switching career paths, moving to different parts of the country, or even something as simple as buying a new car. If the fear of change or failure prevented you from making a move, could you imagine what would happen if you stayed stagnant? Chances, are you couldn't have achieved a certain level of progress.
In many ways, cloud-fearing businesses are facing the same dilemma, albeit on a company-wide scale.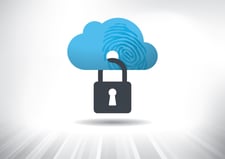 Organizations are still caught up in the mindset that "exposing" their data to the cloud is a risk not worth taking. Even if that means staying with the same inefficient on-premises data management methods. And even if that means falling behind the pack of businesses that are reaping productivity and performance benefits through the cloud.
The LinkedIn Cloud Security spotlight report indicated that nearly 50% of respondents identified cloud security as a barrier to cloud adoption, and 41% specified data loss and leakage as the most worrisome outcomes of a deployment.
But is it true that cloud-based data hosting and management attracts more security threats than internal on-premises management? The simple answer is no.
Cloud Computing is not inherently more or less secure or reliable than on-premises hosting. And the threats that you encounter aren't suddenly more dangerous, either.
Consider this: According to a recent study by Tripwire, more than 60% of security events are the result of an inside attack, and close to 80% involve inside personnel who unintentionally compromise your company's security.
Unintentional could mean a number of things. It could mean using faulty passwords or encryption methods. It could even mean employees opening up emails they shouldn't open, thereby exposing the entire network to a nasty virus.
Then there is simply the issue of not having the on-premises resources to stay on top of data security – whether it's people, technology, or time. Or all of the above.
What the cloud brings is a dedicated security patrol that is purpose-built to handle the complex ins and outs of your IT infrastructure.
In fact, by adapting the right cloud solution for your business, you can simplify your security management.
In Part II of our two-part Cloud 101 Webinar Series, QueBIT CEO Gary Quirke and Consulting Manager Allen Hudson take a deeper dive into:
The security considerations you should have for different types of cloud (public, private, hybrid)
The most common questions that businesses have around cloud security
How you can not only sustain but improve security in the cloud