The field of analytics has exploded over the decade as data itself has exploded. From the phone in your pocket to "smart" toilet paper holders which analyze your "technique" and automatically reorder paper when you're out (I bet you think I'm joking…I'm not), data and analytics inundate our lives. Harnessing the meaningful stuff and letting go of the rest is more difficult and yet more important than ever. Hmm, just re-read that last sentence and that's a great life lesson, not just a declaration about analytics, isn't it!
A few weeks ago, I did a demo of Cognos Analytics. It's the first one I had done in quite some time, as my day job is usually executing on client engagements. What I discovered during that exercise was really quite remarkable: there is so much to the current Cognos Analytics that it took me almost an hour until I hit on those features that people, that's you and me, think of as "the old Cognos". As it turned out I spent the majority of the demonstration moving sequentially through all the new capabilities in Cognos Analytics, all of which flow together in this logical thought process to guide you towards your ultimate analytics destination. With the launch of Cognos 11.1.3 ten days ago, now felt like a good time to level set our thinking on "the new Cognos.
I did my first webinar on Cognos Analytics in October of 2016, on version 11.0.4. That's almost 3 years ago, and if you're like me your first thought after reading that is, "wow you're old!" The second thought is "Wow, Cognos Analytics has been around longer than I thought!" Seriously, if you've worked somewhere for 3 years, can you still call yourself the new person? No. And the same holds true for software, especially analytics software.
Cognos Analytics is more than just a business intelligence tool. Rather, think of it as a collaborative platform for the creation and sharing of analytic content, which contains BI tools. Forget what you thought about "the old Cognos." Cognos Analytics embeds all key aspects of creating and sharing content in a uniformly rich and robust manner. Whether it's accessing the platform using modern, robust authentication, customizing the experience towards the individuals with its extension framework, interacting with other collaboration platforms, or integrating with other best in class platforms with reusable custom control framework, Cognos Analytics is at the leading edge of the analytic social cycle. And yes, along with that it is still a comprehensive platform for comprehensive analytics content creation and management.
I'm not a software sales guy. My team and I are consultants who are paid to get things done. More often than not, these things are quite conceptual in nature (or as one co-worker once said "prayers" as opposed to "requirements"). To build something that's never been built, and to do so confidently, requires an ultimate set of tools. Over the last three years we've executed on a wide array of projects which quite frankly would have been a great challenge to do with any single toolset. With Cognos Analytics much of what we needed to do was in the platform, and those elements which weren't we could build and implement using the either Cognos Analytics extensions or custom controls, i.e. whatever Cognos didn't have we could build and add in without "hacking" the platform.
I can't cover all the features of Cognos in this blog, there are just too many, but I will hit on two of my favorites. To see more, take a few minutes to watch our Cognos 11.1 overview, or browse the IBM YouTube content. We also have an excellent blog post and video by one of my co-workers on Cognos Analytics and its integration with Jupyter Notebook.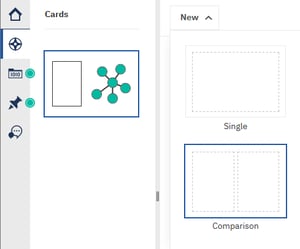 Cognos 11.1.3 brings refinements to many of the capabilities in the platform. E.g. comparisons are a really nice feature in Explorations. After all analytics is largely about comparing one set of outcomes with another. With Cognos 11.1.3 a comparison is now a type of exploration (previously you needed to create the single cards and then select them and say "compare").
With the use of our pins, we can move the results of our comparison into a dashboard or story, which allows them to be shown in the context of lots of other business activity and results.
And if this weren't enough, we can now show everyone how great our creations are. Cognos 11.1 introduced sharing directly to Slack from your viewer. Slack is nice for collaborative work, so this was a valuable addition. However, with Cognos 11.1.3 we can now do the most old school, but most desired sharing of all: email. With your viewer open you can now annotate and share the content on your screen with anyone you want.
Amid all this change, perhaps one of my favorite moments with Cognos Analytics came last week. I worked with a client to implement burst report distribution, from a PowerPlay cube, with the reports sent as a single email message to each person rather than a large string of emails. It was old school Cognos at it's finest and a reminder that in this mature yet still growing platform, not only can we adapt to new ways of approaching business but also continue to perform those daily activities required to just get stuff done.
The continual stream of enhancements coming into the Cognos Analytics platform demonstrates that IBM development is listening. In the 3 years since my first webinar, the long list of "why can't I…" has grown shorter as features are added. We're not just getting random features which seem cool, e.g. advanced visualizations, but we're also getting features we've asked for and need like sharing to email and drilling through from dashboards. It's new world and old school, and a must have for those tasked with prayers not requirements.
And if you didn't think this post could get anymore inspiring and awesome, what's the most awesome incredible thing you can get (beyond free food that is)? How about a free trial? You don't have to take my word for how much this platform has grown and matured. You can get a fully featured 30 day trial of Cognos Analytics for you and 4 of your friends, including access to your own database, by following this link -> https://quebit.com/ibmCA and clicking on the "Start your free trial" button. We want you to experience and enjoy everything this platform has to offer. We'll even help you connect to your data if you have an issue, just email me. Cheers!