If you have ever worked late on an Excel analysis that required extensive data manipulation or mappings and wondered "could there be a better way?", then this blog post is for you.
It's written by someone who loves Excel, who relishes getting a chunk of data to organize and explore almost as much as she enjoys working out how to build a model to allocate overhead or drive a revenue plan.
If this resonates with you, then it is also likely that you have encountered Excel's limitations around data management, scalability and collaboration which were discussed in our earlier blog post on Excel and State-of-the-Art Planning.
There is, in fact, "a better way" which is to invest in a planning software platform which ideally builds on Excel's capabilities, rather than replacing them. This brings you the best of all worlds:
A centralized secure, collaborative repository for your operational or financial data and calculations, and
The ability to combine those data and calculations easily with other data and calculations in Excel whenever business realities throw you a curve-ball (as business realities tend to do).
Talking about business realities, there is also the reality that planning software platforms require some level of effort to learn and configure to your data and your business models, and they don't come for free.
Until now (sort-of).
An Extraordinary Deal
Enter IBM, who has launched a 30-day FREE TRIAL of its IBM Planning Analytics (sign up here!) software in the IBM Cloud! After your 30 free days are up, you can continue to use it for a mere US$45 per month, per user.
Within the free trial environment, you can:
Learn the product using guided tutorials and videos
Leverage pre-built starting points (e.g. Expense Planning, Profitability Analysis) to kick start your planning activities
Create your own applications
Share your applications with other people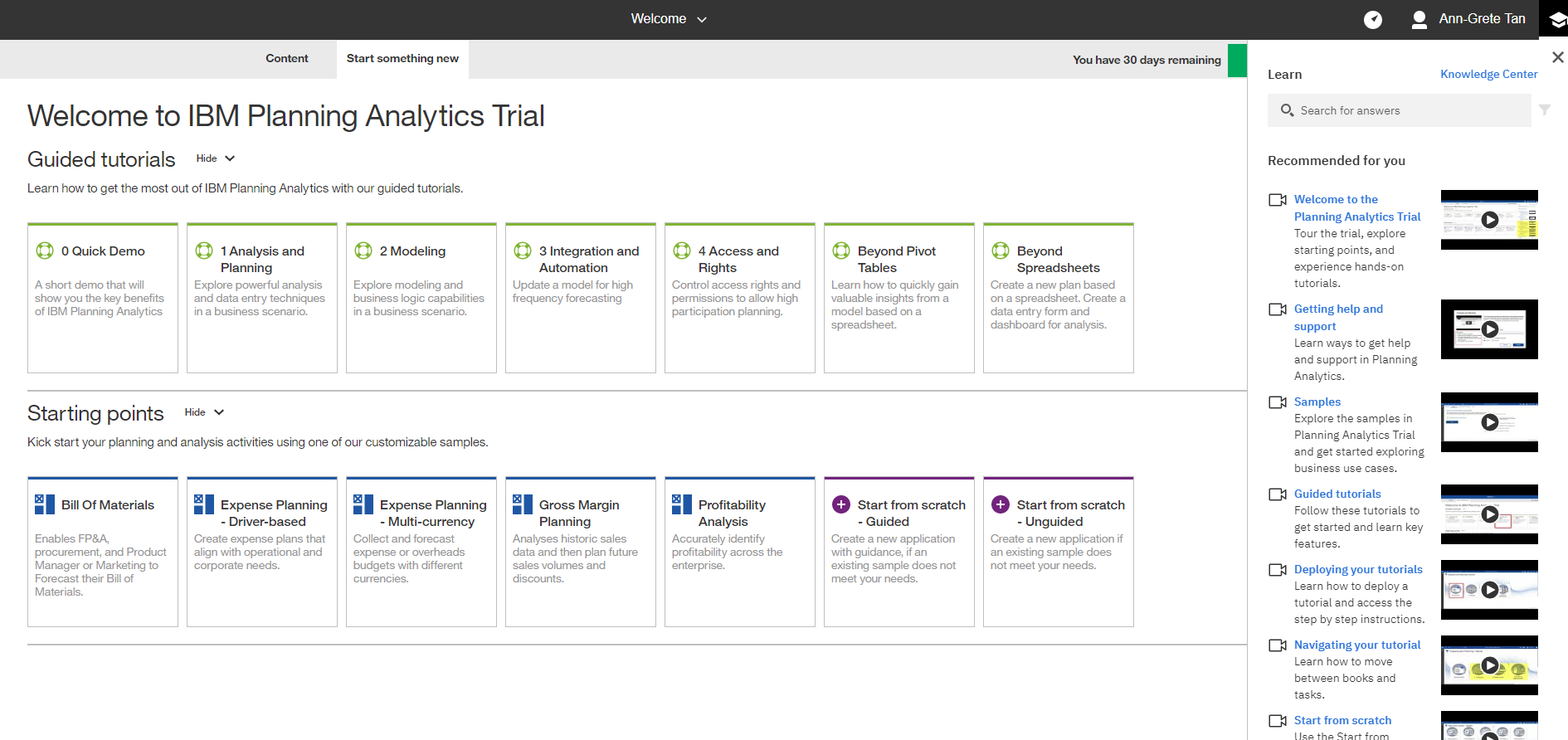 In case you are not aware of it, IBM Planning Analytics (powered by TM1), is a flexible, scalable, high-performance planning, analysis and reporting software platform used by some of the largest companies in the world (click here for case studies). IBM has designed this free trial and affordable entry point to bring the power of IBM Planning Analytics to everyone, including companies who would not normally see themselves as IBM customers!
Here are some examples of applications our clients have deployed using IBM Planning Analytics:
Function-specific use cases:
Financial Planning & Analysis

Operational Planning

Revenue planning

Expense planning

Workforce planning

Capital Expenditures planning

Gross margin planning

Balance sheet & cash flow planning

Sales forecasting

Predictive demand planning

Project expense planning

Headcount/labor planning

What-if scenario planning
Industry-specific use cases (sample industries):
Financial Services

Insurance

Life Sciences / Biotechnology

Manufacturing / Distribution

Customer profitability analysis

Transfer pricing

12b-1 mutual fund reporting

Actuarial planning

Earned premium planning

Reinsurance modeling

Clinical trials expense management

R&D cost projections

Gross to Net modeling

Predictive demand planning

Sales & operations planning
At time of writing (April 2020), we are not aware of any planning software product of this caliber being available at anything close to this price.
4 Reasons to give the IBM Planning Analytics Free Trial a try
If your organization has recognized the limitations of Excel for agile business planning, and is in the process of evaluating planning software options, the IBM Planning Analytics free trial gives you an easy way to explore one of your options. While planning agility is always desirable, when a catastrophic event like the COVID-19 pandemic occurs, it can become necessary for survival.
Besides the easy-to-follow guided tutorials and starting points that are available when you log into the free trial, avail yourself of additional resources in the Planning Analytics group of the IBM Communities This will put you in touch with a whole community of experts willing to share their expertise and experience with the product.
IBM has designed this offering so it can grow with you, at a pace that works for you. If all you need is to build an expense planning application for a handful of people to contribute to, then the entry level offering may suffice. But if you begin to outgrow the environment, and want to add more integrated planning applications, or leverage Artificial Intelligence technology for (for example) predictive demand forecasting, then IBM will provide you with an easy upgrade path, all in the Cloud, so it's quick and easy!
If you sign up for the free trial through QueBIT (click here), we will give you up to an hour of free support to help you get started!
Download the brochure here.
Contact QueBIT at info@quebit.com for more information!