If you are still on a version of IBM Cognos TM1, it is time to plan your upgrade to its rebranded successor, IBM Planning Analytics.
If you are on a version of TM1 10.2.2, IBM will end support on September 30, 2019
If you are on a version of TM1 10.2.0, IBM will end support this year, on September 30, 2018
If you are on an older version, IBM support has already ended.
There has been a lot of buzz around IBM Planning Analytics, particularly around its two new components: Planning Analytics Workspace ("PAW") and the new Planning Analytics for Excel ("PAx") add-in. While PAW and PAx provide a compelling reason to upgrade (as documented in this QueBIT blog post), our advice is to start with a smaller, simpler step: get onto a supported version of TM1, and keep everything else the same.
We call this the Minimal Upgrade.
Here are two important FACTS you need to know:
FACT: TM1 is not going away
TM1 Server is still called TM1 server inside Planning Analytics
Still with Perspectives, Architect, TM1 Web etc. (for now)
Cognos Express, the mid-market version of TM1, is not going away either

It upgrades to Planning Analytics Express

ALSO: There is no additional license fee:

To Upgrade TM1 (Perspectives, Architect, TM1 Web …) as-is to Planning Analytics Local ("PA Local")
To Deploy the new Planning Analytics for Excel (PAx) add-in to all your users

There IS an additional license fee to deploy PAW to all your users (more on this to come)
FACT: On-Premises TM1 is not going away
"On-Premises TM1" refers to the type of software license you own, and the location of your TM1 Server. If the location is your company's data center, under your desk, or in fact anywhere OTHER than the IBM Softlayer Cloud, then you have an on-premises license.
On-Premises Planning Analytics is called "IBM Planning Analytics Local", or PA Local for short.
IBM's stated strategy for PA is to support BOTH Cloud and On-Premises

Release schedule for On-Premises (PA Local) will slightly lag behind IBM Cloud (Softlayer), for practical reasons
An On-Premises license CAN be used to put TM1 on the Public Cloud (AWS, Microsoft Azure etc)
In other words: If you are staying on-premise, there is no immediate requirement to deploy the new components, Planning Analytics Workspace (PAW) and Planning Analytics for Excel (PAx). You can continue to use TM1 Web and Perspectives or Architect, which are fundamentally unchanged. PAW and PAx can be added in a later phase, giving you time to explore new options and opportunities with the technology, and to plan end user enablement and training (which will be necessary).
Your other option is to move to the IBM Cloud. This brings several benefits including:
You do not need to procure new hardware
You do not need to install the Planning Analytics Workspace and TM1 server software
The software license fee includes all the components
If you go the IBM Cloud route, you will need to make plans to roll out PAx to any end users who need Excel access to TM1, and you should expect that your software license costs will change (take a look at the Current Offers below).
The image below summarizes the options, with the simplest path – staying on-premise and changing as little as possible - outlined on top: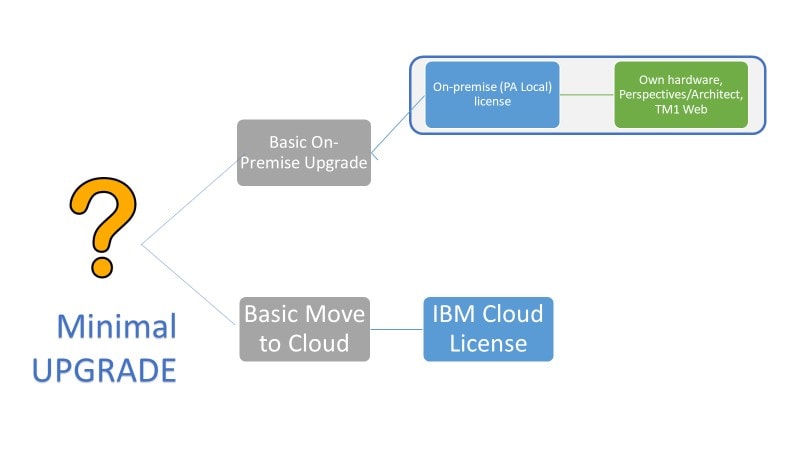 Our next blog post in this series will summarize what you need to know about the Planning Analytics technical system architecture, so you can be fully informed as you plan your upgrade.
Current Offers (Summer 2018):
Contact us NOW at upgrade@quebit.com to find out more about these offers!
IBM has an ongoing promotion on Planning Analytics Workspace for on-premises customers
IBM has an ongoing program (CAP = Cloud Adoption Program) to give customers a low cost and low risk path to moving to the IBM Cloud
QueBIT has PA Upgrade services and training offers. Click here for more information or email upgrade@quebit.com.
Resources:
Blog posts:
Webinars and Demos: