Few are more affected by supply chain disruptions than the distributors who make up the Wholesale Trade industry. As intermediaries between manufacturers and final customers, distributors add value in myriad ways including repackaging, inventory management, and logistics which means their businesses are especially impacted by factors like uncertain delivery times, struggling suppliers, and inflation.
If there is a silver lining, it is that everyone is in the same boat, which means that there is opportunity to increase margins and (maybe) market share by leveraging technology to speed-up information flow and accuracy. It stands to reason that when decision-makers have better, more up-to-date information, they are more likely to make better decisions.
Consider, as an example, the flow of information between Operations and Finance at a distributor. The typical process involves the Operations team developing a demand plan, which is constrained by, and balanced against, a supply plan. During this process, operational decisions will be made, for example around increasing inventory, opening up new production lines, hiring more people, finding additional suppliers, and so on. Every single one of these decisions has a financial impact. Timing matters too: today's operational decisions affect revenue and expenses in the future, and the flow of cash.
At many companies operational planning is mostly disconnected from financial planning, except at "the end" when capital dollars or a hiring budget are being requested. The requests typically involve meetings with Finance, and then Finance going off to do their own financial analysis before responding with an approval or a modified offer.
All this takes effort and time, and it reduces agility, which is a problem in unpredictable and disruptive times.
Imagine, instead, an integrated planning system where the financial impact of demand and supply planning scenarios can be seen immediately, and where several such scenarios can easily be compared. You can see a demonstration of how such a system works in this 35 minute recorded webinar, but in essence an integrated planning system that automates data acquisition from source systems enables a much more interactive and collaborative way of working. This translates into fewer meetings, more analysis, and ultimately faster times-to-decision.
These benefits require (1) investment in a planning software platform, and (2) having a vision for how to deploy the platform successfully in your unique business context. Fortunately, once the planning software platform is in place, it can be expanded to meet all your extended planning and analysis (xP&A) requirements over time, as shown in the graphic below: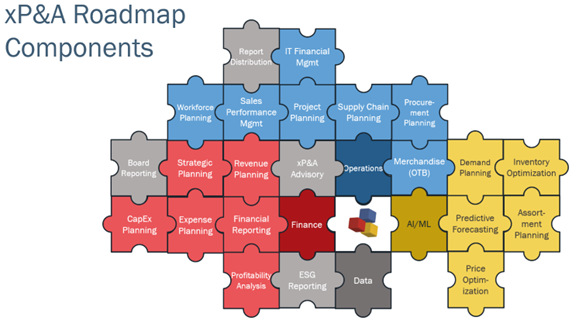 Companies have different entry points to this picture depending on where need is greatest. Some, like Sunbelt Rentals begin with Financial Reporting while others, like Arthrex focused on Demand Planning first. Regardless, the planning software platform for both these examples was the same and was used as a launching pad for integrating planning processes with other parts of the business. Furthermore, all the major planning software platforms on the market (several of which QueBIT partners with) are designed to be owned and maintained by business users. Planning software platforms transcend the many limitations of spreadsheets, while retaining sufficient flexibility to be fit-for-purpose.
And for distributors these days, planning flexibility is not optional.
Contact QueBIT at info@quebit.com for a free consultation on how to begin your journey to streamlined planning and analysis. QueBIT works with companies of all sizes, from the mid-market to large global enterprises including many in the Wholesale Trade, and adjacent industries.
[1] Financial Planning & Analysis