Enterprise Resource Planning, or ERP, software is used by businesses of all sizes to support its financial and operational business processes. Most vendors offer a menu of modules that can be combined so that data flows seamlessly from one to another, mirroring information flow through the business.
Typically, the core module will be the accounting module, which includes the general ledger with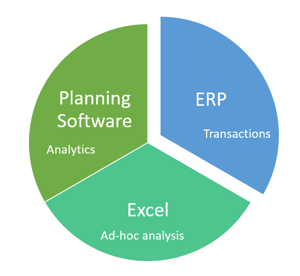 subledger options like accounts receivables, accounts payables, order entry and so on. The availability of other modules will vary by vendor, some of which may specialize in serving specific industries. Examples can include Production Planning, Materials Management, Customer Relationship Management (CRM), Human Resources (HR), Purchasing, Inventory & Warehouse Management, etc.
Examples of well-known ERP offerings available on-premises or in the Cloud are: SAP, Oracle Netsuite, Workday, Microsoft Dynamics, Deltek and Sage: but there are many, many more.
A frequent source of confusion stems (I think!) from the word "planning" in "Enterprise Resource Planning". It is not unreasonable to assume that an expensive product advertised as an "end-to-end solution for all your financial management needs" in a genre that includes the word "planning", would also take care of financial planning & analysis (FP&A)!
There are actually very good, albeit unsatisfying, technical reasons why planning and analysis, and its cousins reporting and performance management cannot be delivered using a traditional ERP platform. Here's why:
ERP systems are operational systems built on relational database technology which is optimized for transaction processing. It's about posting accounting transactions like sales orders and journal entries. Transactional ERP systems are used to run the business in the day-to-day sense.

IBM DB2, Oracle and Microsoft SQL Server are all competing relational database technologies that are designed for processing transactions.
Some ERP vendors offer a choice of underlying database, while others do not.
For example, if you like, you can run SAP on IBM DB2, or Oracle, or Microsoft SQL Server but Oracle Financials only runs on the Oracle database. Microsoft Dynamics only runs on Microsoft SQL Server.
Even Cloud-based ERP systems such as Netsuite have some form of relational database technology below the surface.
In contrast, the best planning software platforms are built on analytics (or OLAP, On-Line Analytics Processing) database technologies, which are optimized not for transaction processing, but for analysis. It's about aggregating lots of detailed data quickly, defining calculations across a multi-dimensional space, and being able to pivot, slice and dice to your heart's content.

Well-known examples of competing analytics database technologies are Microsoft Analysis Services, IBM Planning Analytics and Oracle Essbase.
Some of these (like Analysis Services) are sold as analytics platforms, while others (like IBM Planning Analytics) are sold both as platforms and planning solutions.
Using the right tool (or underlying technology) matters greatly here, just as it does in carpentry or plumbing. Without the right tool, some things are simply not possible.
Besides the tool question (which impacts functionality), ERP systems rarely capture data at the precise level of granularity or detail needed for planning, analysis, reporting and performance management. ERP systems, once they are set up, are difficult and expensive to change.

Many ERP implementations are initiated from an accounting and operational point of view. When design decisions are being made, they are made from the point of view of getting the accounting right, by people who are not necessarily experts in analytics and performance measurement, who may not be thinking about how the data will be used beyond the normal ERP use cases.

EXAMPLE: a company that had grown by acquisition and had many legal entities did not have support in their ERP to report by product segment (across entities).

But even when future analytics needs are considered ahead of time, and your ERP implementation is designed to meet them, there can still be a problem: business environments change! All it takes is an acquisition, a re-organization, new leadership or a shift in strategic focus.

EXAMPLE: a company moved from a geography-based structure to business units.
The ERP-Analytics Mismatch problem: when the ERP doesn't support the planning, reporting or analysis you need, and you don't have access to a good planning software platform … (Excel) spreadsheets plug the gap!

One very common example would be product reporting. It is not unusual for an older ERP to not tag transactions with product information directly. Instead they might use combinations of dimensions like Account or Department to mean A financial analyst may use Excel to map the data to get to the right breakout by product for reporting purposes. If you had access to a planning software platform, you could easily create mappings to automate the population of a Product dimension in a situation like this.
There is nothing wrong with using spreadsheets on an ad-hoc basis when something needs to be done differently quickly. Spreadsheets are an amazingly versatile, flexible and empowering tool. The problems begin when spreadsheet usage proliferates, and we end up trapped in a work-cycle that cannot scale or keep up with the pace of modern digital business.
Many ERP vendors will CLAIM that you can "do your budget" in the ERP system itself.

In reality what this means is that you can upload your budget numbers to the ERP system at whatever level of detail the ERP supports allowing you to do Actual vs Budget reporting from the ERP.
While this claim enables the vendor to check a box on a list of requirements, here are some follow-up questions:

Where do the uploaded budget numbers come from? There is a good chance they were created in a spreadsheet like Excel (see previous point), or in another planning software platform.
What if you want to explore what-if scenarios, store and compare different versions or build driver-based models? An ERP system built on relational database technology can't do any of this well.
What if you plan by product and want to do plan vs Actual reporting by product but the ERP doesn't have its data broken out by product, as described in the ERP-analytics mismatch example above? Your only choice is to do your planning elsewhere.
To be fair, at time of writing (early 2020) some ERP vendors are actively working to integrate financial and operational planning and analysis features into their offerings, usually through acquiring a specialist planning software vendor. This means that the acquired technology, usually running on an analytics database platform, is being bolted on to the ERP technology, running on a relational database. This is as it should be, but it is important to be aware that claims of "full integration in the Cloud" are likely more aspiration than reality, at least until 2021, or 2022.
Meanwhile a good planning software platform that integrates easily with your ERP system(s) and supports the use of Excel for your inevitable ad-hoc analysis and reporting needs gives you the best of all worlds. Our blog post on the role of Excel in State-of-the-Art planning expounds further on this theme!