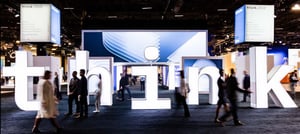 Think 2018, which was held in Las Vegas March 19-22, was as big (about 30,000 in attendance) as it was bold: we are entering "an era of man plus machines" where we will be "putting smart to work in a smarter business", IBM's CEO Ginni Rometty said during her Chairman's keynote address. Much of the buzz around the conference was focused on future technology in which IBM is investing heavily, such as artificial intelligence, quantum computing, and more. And while the conference provided opportunities to network and learn more about the IBM analytics software we use right now, which I'll share in this post, I think it is crucial to frame that in the context of what is coming next and to see how we at QueBIT, as trusted experts in analytics, have already been preparing our customers to embrace that future with open arms.
A Watershed Moment
In my recap of the IBM Vision 2017 conference, I wasn't sure what to expect from IBM's Think conference and its new format, but went into it with an open mind. The volume of content I and other attendees were confronted with at IBM Think, though, was overwhelming: there were approximately 2,000 sessions to choose from! Outside of sessions on the usual suspects (Cognos Analytics, Planning Analytics, SPSS Modeler, etc.) it was difficult to see beyond those subject areas, if not for some excellent keynote presentations by IBM kick off the conference, which can all be viewed on-demand, particularly the Chairman's keynote from IBM CEO Ginni Rometty.
Ginni reflected on two watershed moments over the past 60 years where we saw exponential growth when "both business and technology architectures change at the same time":
Moore's law: a doubling of processing speed every 18-24 months
Metcalfe's law: a network's value is the square of the number of its connected devices
Ginni believes a third, as-yet-unnamed, watershed moment is beginning: the convergence of digital platforms with artificial intelligence, in the hands of users, to enable us to learn exponentially. You might be asking what does this have to do with analytics? Everything!
The Power of Your Data
As the saying goes, "those who fail to learn from history are doomed to repeat it", and it is our "history", in the form of the data that we possess, that Ginni suggested will enable us to take this next leap forward. For companies, this means all kinds of data "owned" by your business: financial, customer, telemetric, and more. We at QueBIT have long advocated warehousing and storing this data to support analytics of all kinds. Indeed, with the digital platforms available today to manage vast amounts of data there is no reason any customer should consider throwing away data—if you do, you're doomed, in this case, to being without information that can "teach" predictive and artificial intelligence models of the future by learning from your past.
Many of QueBIT's solutions already take a giant step toward in this future direction, by helping our customers drive better business decisions around demand planning, price optimization, maintenance, financial consolidations and more. Two of our sessions at Think, which were highlighted by IBM, shared implementations of our solutions, like Galileo and how it's helped bring significant ROI to customers through more accurate forecasting, driven by customer data and machine learning. In fact, one of QueBIT's customers, LKQ, was awarded an "IBM Client Excellence and Transformational Award" in Planning Analytics for the predictive price optimization solution (Achilles), which we helped them implement. For QueBIT's customers, the future is now!
Empowering Your Users
It's easy to get lost in a sea of technology and data and forget that it's the users, who can use both, which ultimately drive our success. As Ginni was quick to point out in her keynote address "you are going to empower people with all forms of digital intelligence… man and machine get better answers than man or machine alone."
This is a great time to talk about how we empower users with "digital intelligence", or analytics, today by summarizing what we learned about IBM Analytics software, and what is coming that we can look forward to:
Cognos Analytics (BI): The new Cognos Analytics 11 has major improvements in visualization and dashboarding capabilities as well as improved integration with newer features of Planning Analytics (TM1), like hierarchies. Most importantly, there are improved self-service exploration options available to empower users with data. Although no new, major announcements were made at the conference for Cognos Analytics, we see so many reasons to plan upgrading to CA 11!
Planning Analytics (TM1): Planning Analytics 2.0, particularly in its newer Workspace (PAW) web application and Excel add-in (PAx), is seeing significant investment by IBM and frequent updates to bring new capabilities to the application, including administration and modeling. Like with Cognos Analytics, there were no major announcements made at Think for Planning Analytics, but IBM emphasized their focus on improving overall stability in Planning Analytics which is why we are encouraging customers to plan their TM1 to PA upgrades!
Advanced Analytics (SPSS Modeler, DSX): IBM has been working to improve the SPSS Modeler interface with new visualization options and a refreshed user experience. IBM has also added nodes to support things such as Python Spark and integration with

CPLEX Optimization and

Extensions Hub. IBM's goal is to bring predictive analytics to the masses—not just data scientists—and they are enhancing the Data Science Experience (DSX) offering to provide similar SPSS Modeler capabilities to users who may be less technical. Although DSX does not currently have the breadth of functionality found in SPSS Modeler, the two products are converging in terms of user experience, features, and visualization options and will ultimately provide a rich suite of tools for predictive analytics.
With tools such as these to empower your users, the future looks very bright, indeed!
For the Latest in Technology and Analytics: Ask QueBIT
There is so much more that came out of the Think 2018 conference that I didn't have room to share here, including really exciting technical innovations being worked on by IBM Research like crypto-anchors for blockchain, quantum computing, lattice cryptography, AI-powered robot microscopes and more—all of these may change our future as we know it, too (even if we may not be able to see them!) and I'd encourage taking a look at a recap of IBM's 5 in 5 presentation to see more.
Hopefully you now have a better picture of how QueBIT is preparing its customers to embrace the next watershed moment in analytics and artificial intelligence. We at QueBIT take great pride in having a deep understanding of both analytics and technology, and how the two can be applied together to deliver amazing results for our clients. If you would like to learn more about anything in this post, just tweet us at @askQueBIT or email us at info@quebit.com.